Widower loses late wife's dog in attack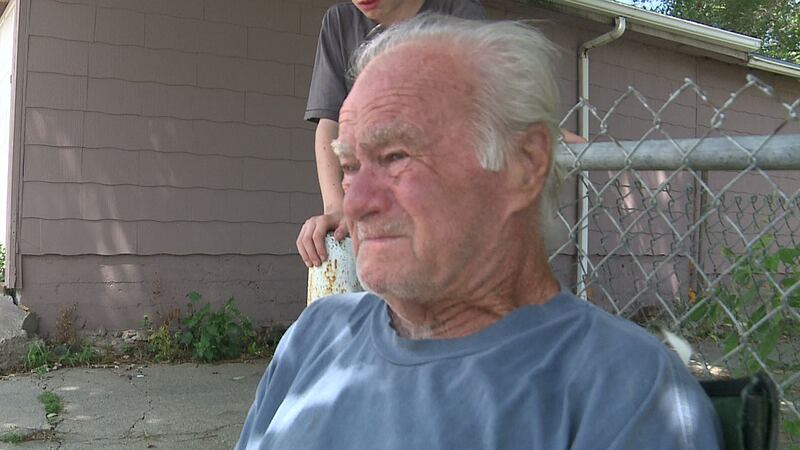 Published: Jul. 18, 2016 at 9:26 PM CDT
Investigators are trying to figure out who is at fault after two dogs killed a smaller dog and wounded its owner.
With a large bandage covering his dog bites, 85-year-old Ray Drummond could hardly worry about his own injuries. It was the loss of his seven pound Papillon named Mojo that shook him to the core.
"What am I going to do without him?" Drummond said through tears. "I, I don't know. I lost my dog."
Humane Society workers and emergency crews rushed to this south Omaha neighborhood, Monday afternoon. Mojo didn't stand a chance. Drummond and his daughter told WOWT 6 News that two dogs leapt over the fence a fence and went after Mojo. Drummond tried to intervene, but it was too late.
"I couldn't do nothing with him," said Drummond. "Boy, he was clamped on him, and I couldn't get him loose."
Shortly after the attack, the two pit bulls were tracked down to a home a few blocks up the road. Neighbors gathered and watched as the dogs were taken in.
Investigators said the owners are out-of-town, so there are questions about who may have been at fault. There are also questions about what could become of the dogs.
If it's determined one was the main aggressor, that dog or both could be euthanized.
"That was my mom's dog and she's gone now. She passed away almost four years ago. He spent thousands of dollars to keep that dog alive," said Drummond's daughter, LuAnn Rohr.
Finally on the mend, the family thought Mojo would stay around to be a lasting memory of Drummond's wife.
"I dunno, I dunno what I'm going to do without him," Drummond told WOWT 6 News.
Drummond says he's left with nothing. The Humane Society said both dogs are currently in quarantine. Once the investigation into what happened is finished, a judge will decide what to do with the animals.