Waverly Mother Battles Ovarian Cancer While Pregnant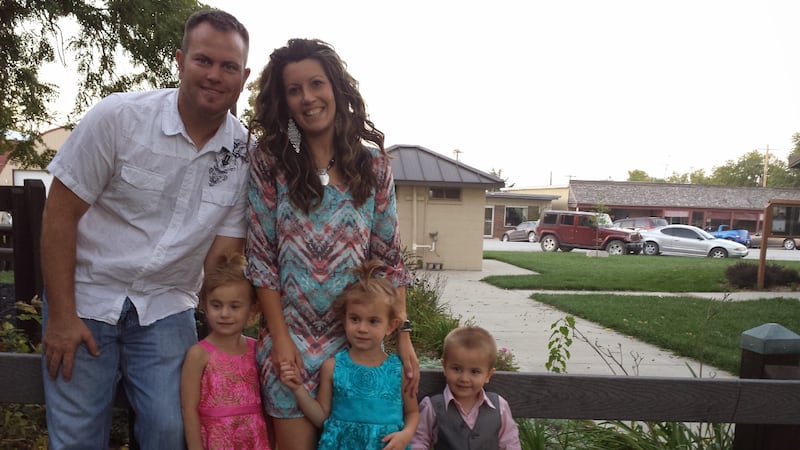 Published: Dec. 21, 2017 at 7:36 PM CST
The Colton Farm is full of laughter.
Twins Grace and Faith are seven. Max is 5. Baby Hope, just over a month old.
Behind the laughter, their mother, Melanie, has been fighting for her life.
Through tears she said "When I found out it was pretty devastating. I didn't know...my first words out of my mouth were how long do I have to live?"
It was shortly after Melanie found out she was pregnant with Hope that it all began.
"I noticed a little lump on the side of my stomach. I really didn't think too much of it because I knew I was pregnant." she said.
Ultrasounds revealed a cyst. Her right ovary was six times larger than her left.
Melanie had to have the ovary surgically removed to make room for her baby.
"When I came out of the surgery, she told me she ended up removing my right ovary just because she saw some black spots on it." Melanie said.
It was Ovarian Cancer.
Melanie's husband, Clint, said their life became full of appointments as she fought cancer and began chemotherapy.
"We had to take almost, knock out two days a week just to do that." he said.
Emotional moments as Melanie lost her hair.
"I had clumps falling out in the shower and it just came to the point I knew what I had to do. My kids helped me shave it one day. It was an emotional day."
As Melanie began her first round of chemo on June 16th, she was once again dealt a devastating blow.
"My best friend who was only 39 had passed away in her sleep and to this day we still don't know why. She was just my rock and she was going to help me get through all of this." she said.
Her High-Risk OB/GYN at Methodist Women's Hospital, Dr. Todd Lovgren, says Melanie's strength never wavered.
"She got dragged through deep emotional waters. Losing her best friend in the middle of the pregnancy...she still handled it with absolute grace." Dr. Lovgren said.
Dr. Lovgren has treated other mothers with Ovarian Cancer. In Melanie's case, he teamed up with Dr. Crotzer of Methodist. Chemo would be her only option.
Dr. Lovgren says timing was essential. He and Dr. Crotzer came up with a specific care plan.
"He was able to help me time her last dose of chemotherapy so we could deliver her during a safe window." said Dr. Lovgren.
Melanie went through six rounds of chemotherapy. She says her concern was never for herself, it was always for her baby.
"Every appointment, I was just like, How is she? Is her heartbeat ok?" she said.
Dr. Lovgren he has treated several pregnant women who have been diagnosed with Ovarian Cancer. He says often women who are pregnant can handle chemotherapy better than patients who are not.
"They tend to have less nausea, they tend to have less problems with blood count, fevers, and infections when they are pregnant." He said. "The chemotherapy itself is such a large molecule it can't cross the placenta, so baby kind of stays in this confined, protected environment while mom is going through what can be a really rigorous treatment."
On November 16h, Baby Hope arrived by C-Section. She came into this world weighing 6 pounds, 2 ounces.
"I really feel like she has saved my life through all of this." Melanie said.
Melanie will undergo a full hysterectomy on December 28th. She hopes after that she will hear that she is cancer free.
Her husband, Clint, shares her optimism. "I think we're good. We just had a little bump in the road and we should be good to go now."
Until then, the Coltons will just enjoy their newest family member. A baby girl whose name came easy.
"That day came and we both just kind of looked at each other and Hope is just all around what this whole journey has been about." Melanie said.
Dr. Lovgren says with how busy Methodist Women's Hospital has become, their office, in general, is treating about half a dozen moms who either have cancer or have recently had cancer.
He says the biggest issue is often infections. Chemotherapy not only wipes out the cancer, it can also wipe out your body's ability to make normal white blood cells and platelets. These are areas they monitor to make sure a mother's delivery is safe and healthy.
As far as how rare Melanie's case is? "The fact that she had a mass this large and on top of that a mass that turned out to be cancerous-especially how young she is-is extremely rare." said Dr. Lovgren.
Melanie praises doctors and nurses at Methodist Health. "I could just go on and on about the support group I had there. Dr. Lovgren is more than a doctor. He's a friend. He helped me feel good about their whole journey."
If you would like to help Melanie and her family, a Go Fund Me page has been set up: