UPDATE: Fleeing suspect tries to run down CB officer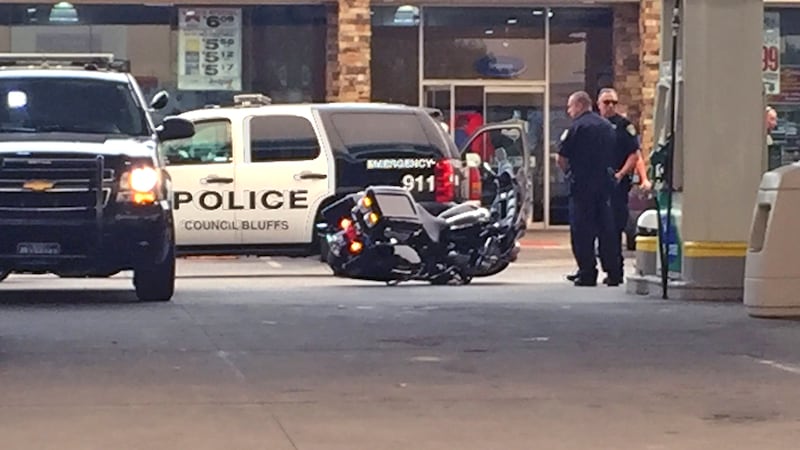 Published: Sep. 4, 2017 at 12:04 PM CDT
A man trying to avoid arrest almost ran down a Council Bluffs police officer on Monday.
Bluffs Police tell WOWT 6 News it started at 15th and West Broadway around noon where Officer Mark Archibald noticed a car which had pulled into the Bucky's gas station at 16th Street had expired tags.
The officer parked behind the car and got off his motorcycle. The driver, 30-year-old Jesse Baker of Council Bluffs, noticed Officer Archibald walking toward him, put the car in reverse. hit the motorcycle and drove off. The officer was able to jump out of the way and was not hurt.
The motorcycle, however, was damaged and was pushed about 30 feet.
Baker left the area at a high rate of speed, according to a press release from the Council Bluffs Police Department and ran a stop sign on 25th and Avenue H, where his vehicle hit a 1999 Chevy Tahoe. The woman driving the SUV suffered minor injuries in that crash and told officers she could drive herself to the hospital to get checked out.
Following the crash, Baker took off on foot. Neighbors in the area directed officers to Baker and he was quickly captured by police.
Baker was charged with Aggravated Assault on a Police Officer and Criminal Mischief 2nd degree. Baker also had warrants for Probation Violation and Escape from Custody as he had walked away from the Residential Correction Facility.
The Iowa State Patrol is investigating the accident at 25th and Ave H and after review with the County Attorney's Office will pursue charges if necessary.