Teens volunteer to help with police training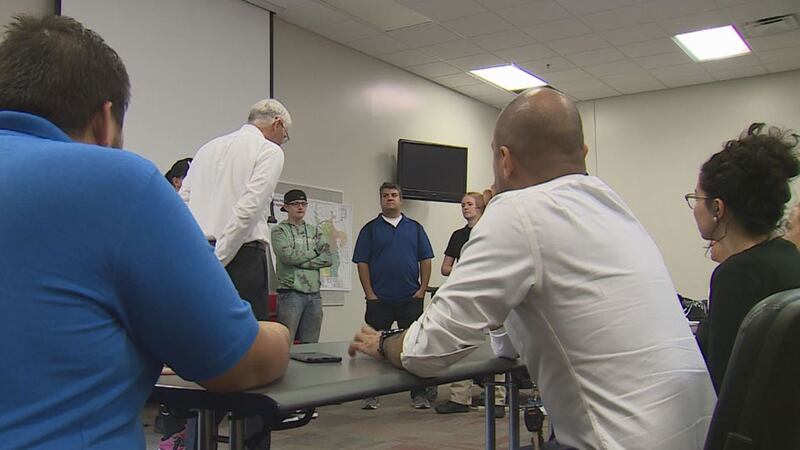 Published: Sep. 17, 2017 at 11:04 PM CDT
Trauma comes in many shapes and sizes. It's not always obvious – and comes from things like emotional abuse and the circumstances behind the problems. Often the best way to understand those who are different from us is to get to know them.
In this case, five 17-year-olds from the Boys and Girls Club volunteered to help the room full of professionals – police officers and probation officers – see their perspective.
"A local drug store – you've got a bunch of kids hanging out front and the shop keeper wants them out of the front door area," trainer David Walker tells officers.
Walker works with Strategies For Youth. He tells the teens to act how they think their peers would act when the police come up to them.
It gets loud. No one seems to be listening. Everyone's adrenaline skyrockets in seconds.
"Stop, stop, stop. We were just playing, but did it feel that way? It got hostile right away," said Walker.
"It's all about the body language. You came in like….instead of chill. As soon as you hit the corner you should have said – "what's up guys?" one teen said.
"Kids act in ways that are very impulsive and emotional. For officers who are used to and trained to deal with adults, it comes across as disrespectful and confrontational. A big part of our training is that you have to focus on your behavior, language and timing. Don't mirror what they're doing – be calm, slow down and use simple language and the kids will as well," said Walker.
Omaha Police Officer Jordan Jacobs believes the role-playing gave her valuable insight.
"I was a psychology major so this stuff is very interesting to me anyway," said Jacobs. "When you go through the academy, you don't talk to teenagers who have had law enforcement contact."
"A lot of times an officer sees a child and a naughty or disruptive behavior – but what we see in the mental health field is a manifestation of trauma," Amber Parker with Operation Youth Success.
In the next scenario, two of the teens are the cops and two officers go back to the days of being 17 again.
"So you're hanging in the park and you know you're not supposed to be there," Walker explains. "I'd like you to approach it the way you think officers should approach it."
"Is there a curfew?"
"Why are you here?"
"This is our job to protect others."
This time – the interaction is more of a conversation.
"We mirror each other – we're mirroring creatures – so if you're aggressive to us, we're not going to be as nice to you," said one teen.
The mayor's initiative is to have a safe, supporting and engaging community – and this one of the ways, experts say, of getting there.
"Taking that mindset and shifting it from 'What's wrong with you?' to 'What happened to you that's causing this to happen?'" said Jessica Kroeker with Project Harmony.
Project Harmony has more details on what it means to be a trauma informed community on their