UPDATE: Teacher sentenced in sex charge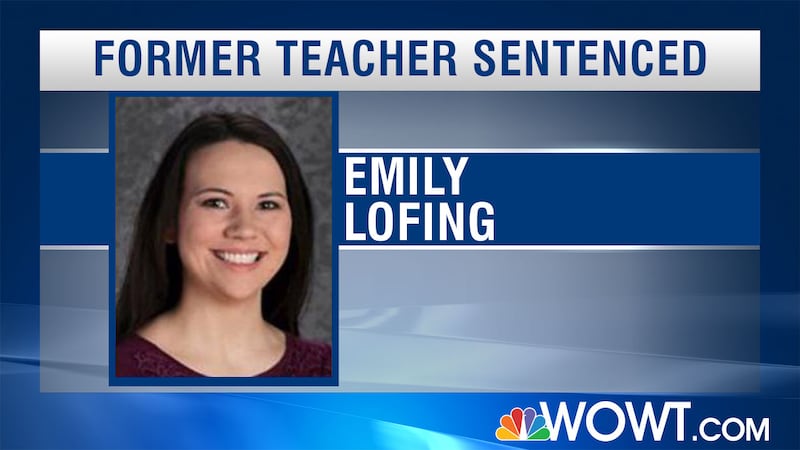 Published: Jul. 17, 2017 at 7:26 AM CDT
A former teacher accused of having sex with a student was sentenced to 90 days in jail and two years probation Monday.
Emily Lofing was sentenced Monday for having sex with a 16-year-old student when she was a teacher in Weeping Water, Nebraska.
When the case was made public, Lofing resigned from her job as a language arts teacher at Nebraska City Middle School. Last February the Otoe County attorney filed a misdemeanor charge against her for debauching a minor. Lofing could have had a maximum sentence of one year in jail but with good behavior she could be out in 53 days. Lofing immediately surrendered to Otoe County Sheriff's deputies, so her jail time has already started.
Lofing plead no contest to the charge.
Before she was sentenced, her attorney urged the judge for understanding.
"For lack of a better terms, in her life, poof - she had a mental breakdown. She makes an incredibly horrible decision," he said.
"This alleged indiscretion, I'll say, took place on the victim's 16th birthday," said Otoe County Court Judge John Steinheider. "You were less than 24 hours from a felony here."
Nebraska law allows any 16 year-old to consent to sex – even with a teacher.
So Lofing's case was classified as a misdemeanor case of contributing to the delinquency of a minor. At Omaha's Child Saving Institute, Jude Connelly wants parents to talk to their teens.
"Help them understand what are healthy boundaries, what are healthy relationships," Connelly said. "They're not aware of aware of the consequences of what they're consenting to do. So even legally they may be able to consent, but emotionally and developmentally they may not be."
There's a bill before the Nebraska Unicameral that would make it illegal for teachers or anyone in a position of authority to have sex with 16 and 17 year-olds. That bill is currently in committee -- we could some movement on the bill in the coming months.
In Iowa, a similar law is already on the books to protect teenage students.
As for Emily Lofing, she has voluntarily relinquished her Nebraska teaching certificate, so once she's out of jail, she will likely never teach anywhere ever again.