Soccer superstar Mia Hamm invites girl disqualified from game to her soccer academy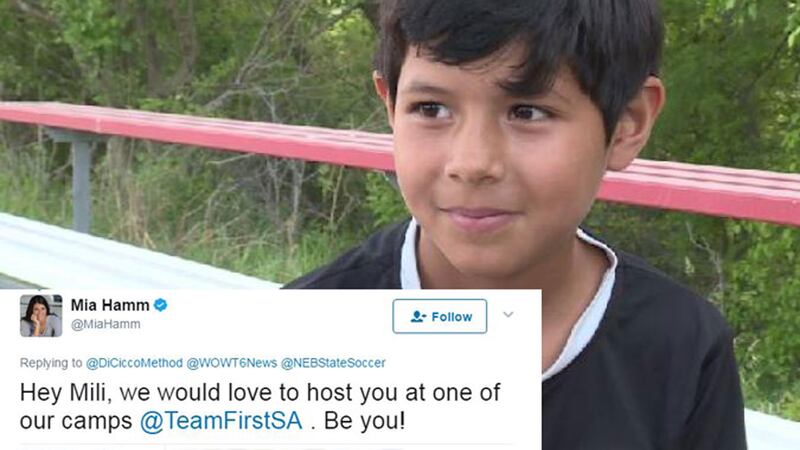 Published: Jun. 5, 2017 at 5:53 PM CDT
The story of an 8-year-old girl disqualified from a local soccer club weekend tournament has grabbed the attention of one of the world's best soccer players.
American soccer legend Mia Hamm on Monday, tweeted, "Hey Mili, we would love to host you at one of our camps @TeamFirstSA. Be you!" The tweet came after Mili Hernandez's story
FIFA Women's World Cup champion and Olympic gold medalist Abby Wambach also had a special message for Milli. She
"Mili, don't EVER let anyone tell you that you aren't perfect just as you are.i won championships with short hair."
Mili plays for a soccer team called The Azzuri-Cachorros Chicas. Mili's family believes the team was disqualified because of the way Mili looks. Tournament organizers say that's not the case.
"They only did it because I look like a boy," Mili told WOWT 6 News.
Hernandez has the shortest haircut on her girls soccer team. She's so good, she's on the 11 year-old roster -- even though she's only 8.
"She's a great player. She has a big future ahead of her," said Mili's coach Mo Farivari.
This weekend, when Mili's team advanced to the final day of the Springfield Girls Soccer Invitational, they were suddenly disqualified. Organizers believed Mili was a boy.
Organizers said in a statement that
, not the player's looks.