Elderly woman killed in rare late-night tornado in Adair, Iowa; another hurt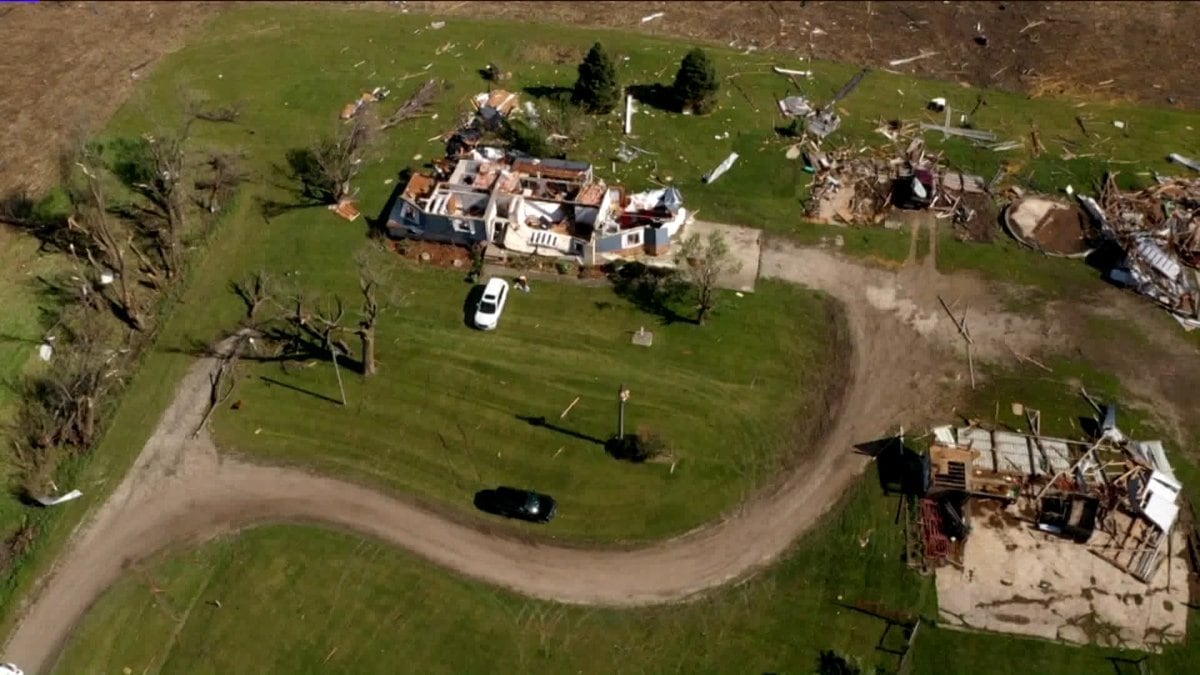 Published: May. 22, 2019 at 6:36 AM CDT
National Weather Service officials have confirmed it was a tornado that tore through Adair, Iowa, around 1:30 a.m. Wednesday, killing an elderly woman and sending her husband to the hospital.
A EF-2 tornado hit the ground a few miles east of Adair, a town of about 800 located right off Interstate 80 about halfway between Omaha and Des Moines.
The storm killed Linda Brownlee, 74 — the first tornado death there since June 1953, and the first in Iowa since April 2014 — and injured Harold Brownlee, 78, who was flown by air ambulance to a Des Moines Hospital, where he was listed as being in critical but stable condition.
The tornado was on the ground for about eight minutes, from 1:29 to 1:37 a.m., NWS officials said, and continued over Interstate 80 for another 3 miles before it lifted. The tornado caused damage to the area along a 5-mile path about 150 yards wide, NWS and county emergency management officials said.
Winds at speeds ranging from 120 to 130 miles per hour blew thru this rural area, destroying one home and
.
Officials said the tornado grew out of an atypical environment; since 1980, fewer than 5% of tornadoes have hit the ground between midnight and 6 a.m.
"Temperatures were in the 50s — the middle 50s — at the time of the tornado," said Mike Fowle of the National Weather Service office in Des Moines. "For those of us that live in Iowa, that's not a typical tornado, what you think of tornado weather."
People who live in the area say there was a thunderstorm warning issued for the area but there was never a warning of a possible tornado.
NWS said at the press conference that there had been a severe thunderstorm warning in the area, with a mention of the possibility of a tornado, but confirmed that a tornado warning was never issued.
"Outdoor sirens are only good for outdoors — that's what they're designed for way back in the '40s; they haven't improved anymore since then," said Robert Kempf of Adair Guthrie County Emergency Management team.
There were no other warnings issued due to a lack of spotters and poor visibility because of the hour it occurred, Fowle said, and authorities could not verify whether a siren went off.
"We noticed some rotation in the radar data but not enough confidence to issue a tornado warning at that time," he said.
A house that sits atop a hill was destroyed along with two or three surrounding buildings. Debris was found on Interstate 80, just north of the damaged property.
The family asked Kempf to stress the importance of the helipad in Stewart, Iowa.
"We have a dedicated VFR helipad in Stewart, so Harold was transported from here to the helipad where they met Mercy One helicopter," Kempf said. "It's an asset that a lot of communities don't have."
The Brownlee family issued a statement asking for privacy.
"Linda was such a kind and caring person," said Peter Fay, a family friend.
Friends and neighbors were busy Wednesday cleaning up what the storm left behind — the entire community working together to clean up debris.
"There is quite a bit of damage caused by the storm that hit in the rural area," Adair County Sheriff Jeff Vandewater said. "When it comes and hits a community, the whole community becomes involved. Everyone feels for the family and for what has happened because you don't expect these things when they do happen. You just have to be there in full support."
—
This is a developing story. Stay with 6 News for the latest information.