No charges in Scurlock death; family responds after Douglas County attorney outlines lack of case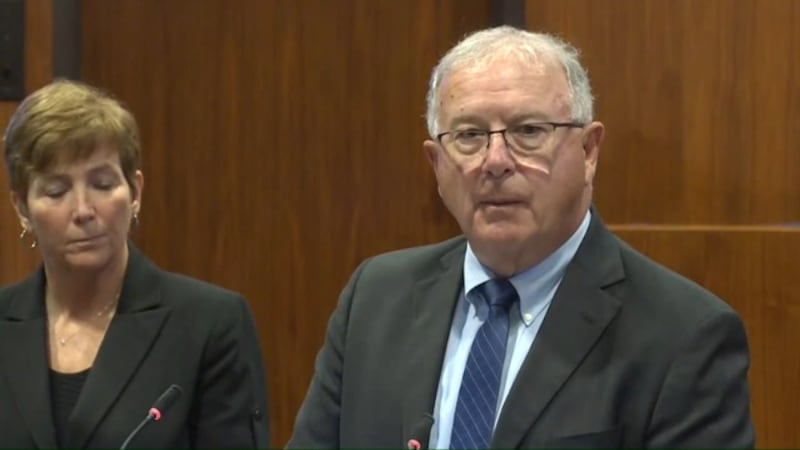 Published: Jun. 1, 2020 at 12:37 PM CDT
No charges will be filed in the death of 22-year-old James Scurlock against the business owner who fired the fatal shot Saturday night in the Old Market.
6 News learned of the news minutes before Douglas County Attorney Don Kleine's planned media conference at 1:30 p.m. Monday in legislative chambers.
Attorney Justin Wayne, who is acting as representative of Scurlock's family but is also a Nebraska State Senator, spoke afterwards
.
Omaha Mayor Jean Stothert, Nebraska Gov. Pete Ricketts, and Omaha Police Chief Todd Schmaderer held a news conference afterward.
Stothert shared condolences to Scurlock's family and friends. She said the past few days have been some of the darkest in Omaha's history.
"A lot has happened and his death has been very sad to all of us," she said.
Ricketts said the level of disruption and chaos in both Omaha and Lincoln has not been seen in recent memory.
"Disruption has led to violence and the tragic loss of James Scurlock," he said.
Ricketts offered thanks to peaceful protesters and law enforcement among other groups. He said Scurlock's death is a tragedy -- violence in response to Kleine's decision not to file charges is not the answer.
"When the curfew comes, please go home. Protest peacefully, then please go home. Any violence detracts from the memories of the people who are lost," he said.
Ricketts said he believed in Kleine's decision not to prosecute.
Schmaderer too offered condolences. He said the night of May 30 was hectic and there were many people in the area of 12th and Harney Streets before, during and after the shooting.
"The role of the police department is to investigate and present evidence to the county attorney who will then make the charging decision. We know there were people in the area who have not been identified. So get with us and come in for an interview," with homicide detectives, Schmaderer explained.
He explained a small group from outside the community is to blame for the problems during protests Friday and Saturday.
"The Minneapolis incident has caused further strain nationwide," he said in regards to the relationship between minority communities and law enforcement. Last week, he and other high-ranking members of the department issued a statement condemning the actions of the now-former Minneapolis officer who is charged with killing George Floyd.
Schmaderer said audio portions of what was said between Scurlock and Jake Gardner is missing. Gardner was identified by Kleine earlier Monday as the one who shot Scurlock.
Asked about enforcing order Monday night, Schmaderer said a multi-agency contingent of officers is on hand.
"Let's remember who Omaha was several days ago before national events took over... Omaha was a community that made great strides in police-community relations," he said.
Douglas County attorney announcement
In his update Monday afternoon, Kleine said the shooting death of Scurlock was senseless, and he showed video clips obtained from nearby businesses of the shooting.
"One of the troubling things... is there is a lot of misinformation about this case in particular," he said.
Kleine described the events leading up to and including Scurlock's death from video evidence and witness accounts.
Scurlock and others could be seen speaking with the business owner in front of The Hive Saturday night after one of the members of the group had shoved the man's father to the ground.
The man, who Kleine initially did not name but later confirmed was Jake Gardner, is seen backing away from the group and Scurlock, asking them to leave him alone and not to damage his business. Gardner lifted his shirt to display a handgun in his waistband.
The group attacked Gardner and they fell into a puddle on the street in front of the bar. Gardner grabbed his gun and fired two shots, which caused one member to run away from Gardner.
Scurlock was seen tackling Gardner from behind while Gardner was trying to stand. Gardner later told police Scurlock had him in a chokehold and witnesses said they heard Gardner say "Get off me" several times.
Gardner fired one shot which struck Scurlock in the collarbone. He died after being taken to Nebraska Medical Center.
"The bar owner was interviewed with lawyers present. He said the first shot was a warning shot. He said Scurlock jumped on him and he was scared Scurlock was going to take his gun. He fired in self-defense. He was scared he would lose his life or severe bodily injury," Kleine said.
Gardner was in police custody from Saturday night to Sunday night at Omaha Police Headquarters.
"He has shown he has a gun. He made it clear he was armed. He said when someone was on top of him that they said they were going to kill him," Kleine said.
He added Gardner appeared remorseful, scared and shocked when he was interviewed by investigators. He said they usually do not release the name of individuals who are not being charged by the office, but confirmed the business owner was Jacob Gardner.
Scurlock family response
A few minutes after Kleine finished answering questions about his announcement Monday, Wayne responded on behalf of the Scurlock family saying it was disappointing that the county attorney met with community leaders about the decision not to press charges before telling Scurlock's father.
"In this community, we prosecute black and brown individuals a lot more for things like we just watched," Wayne said. "(Gardner) had an unlawful carry concealed weapon."
Kleine said Gardner had a carry concealed weapons permit but it was expired at the time of the shooting.
He said the facts of the case described by Kleine were "a credibility issue" but that is decided by a jury, not a judge. Wayne asked for a grand jury to be formed.
"We watched a video where anybody else would have gotten charged with something," he said. "We are asking for a grand jury and charges to be brought against (Gardner)."
More than 100 arrested after 8 p.m. curfew Saturday
After several warnings to
, dozens were arrested following the third night of protests in Omaha — the second in the Old Market area of downtown — according to an OPD report released Monday morning.
Preliminary estimates put Sunday night's arrest count at around 130, according to an Omaha Police report.
Of the 46 failure-to-disperse charges, only six people were older than age 29 and only one was in his 40s, the records state.
Of the 67 "mayor-emergency" charges, 13 were older than age 29, and 2 were in their 40s, the document states.
Other charges included obstructing officers, disorderly conduct, resisting arrest, unlawful assembly, and carrying a concealed weapon, the records state.
By comparison,
at 72nd & Dodge; and
following protests at two main locations in the city.
—
Breaking: @WOWT6News has learned there will be No Charges filed against business owner who fired fatal shots Saturday night in the Old Market. 22-year-old James Scurlock died. County attorney will share details of investigation at 1:30. We'll carry it live. @OmahaPolice pic.twitter.com/hjFR2ocP5d

— Brian Mastre WOWT (@brianmastrewowt) June 1, 2020