Omaha Police release body cam images of officer-involved shooting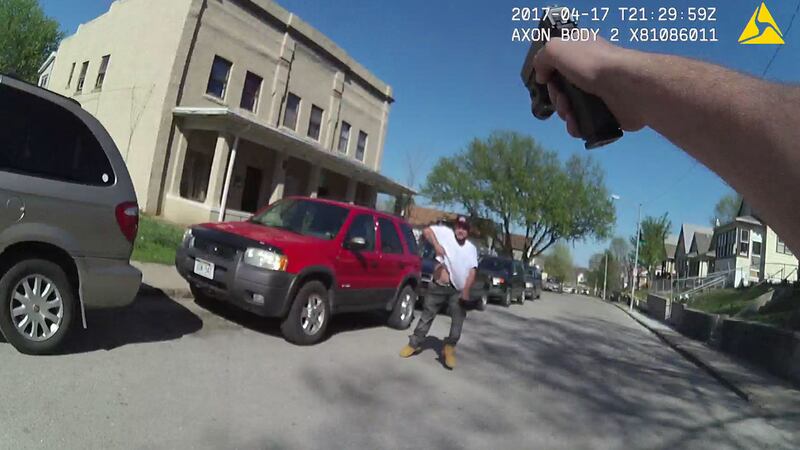 Published: Apr. 18, 2017 at 9:51 PM CDT
Omaha police have released images of the moments that led to an officer-involved shooting.
Monday afternoon OPD responded to an armed robbery at the Bucky's gas station near 24th & Martha. The suspect, who police later identified as Dillon R. Trejo, entered Bucky's and pointed a handgun at employees while demanding money.
Police say Trejo was driving a white Mercury Grand Marquis, which was later recovered unoccupied near 51st & Farnam. Police said Trejo's ex girlfriend Margaret Graham called police Monday around 11 a.m. to say that Trejo had her vehicle, was using drugs, possibly armed with a handgun, and that she was concerned for his wellbeing. The Mercury sedan was registered to Graham.
Police were called later Monday afternoon to the 51st Street location for a report of a stolen car. The victim reported that a white male arrived at the location in a white Mercury Grand Marquis and stole the victim's white Ford F-150 truck.
Officers spotted the stolen F-150 in the area of 25th & Marcy. OPD says that when the officers attempted to stop the vehicle, Trejo refused. OPD helicopter took over monitoring the vehicle's location.
During her interview Graham said that Trejo arrived at 2618 Rees around 4 p.m. in a pickup. She said Trejo had thrown a "ball of cash" in her lap and told her loved her.
While in the pickup, Trejo continued to circle the block near 26th & Rees. She heard the police helicopter and then received a phone call from Trejo. She said that Trejo told her that "they are going to have to kill me… I love you and the kids." She also said that Trejo told her, "I am going to end it here", which she felt Trejo meant on Rees Street. Graham said that she believed Trejo was on a suicide mission.
Police say that at approximately 4:30 p.m. Trejo stopped the vehicle. He then attempted to run from officers on foot.
Reports say that after running a short distance Trejo turned to face Officer Brooks Riley, a 7-year veteran.
Police say Trejo pulled up his shirt, reached into his waist band and raised his hand arm toward Officer Riley, as if he had a weapon in his hand.
Riley discharged his handgun at Trejo hitting him at least one time. The pursuit and shooting were captured on the officer's body cam. Chief Schmaderer authorized still photos from the body camera and convenience store videos in order to provide transparency. Schmaderer said "The evidence reviewed at this point in time by the Douglas County Attorney's Office and the OPD Senior Command (body camera video and witnesses statements) shows the officer was reasonable in his belief that he was responding to deadly force. The officer's decision to fire his duty weapon is justified."
Police said Trejo didn't have a weapon at the time of the officer-involved shooting. Investigators later found a firearm in the stolen pickup.
Per Omaha Police Department policy, any officer who discharges his/her firearm during an incident is placed on paid administrative leave pending the Officer-Involved Investigations Team and Internal Affairs investigations. Officer Riley has been placed on administrative leave.
A witness was also able to capture video on home surveillance. Tim McDermott was on his way home from work but was unable to get past the police tape. Later, he found his home security cameras caught the whole scene on camera. Police are able to use it as part of their investigation.
"My dad's car got stolen a while back, so we put cameras on the house and it just caught it all," said McDermott.
Trejo was taken into custody and first aid was administered by the officers.
Trejo was transported to a hospital where he is being treated for his injuries. He is currently in stable condition and is under police guard. Upon his release from the hospital, Trejo will be booked into the Douglas County Department of Corrections for robbery, use of a firearm to commit a felony, felon in possession of a firearm, possession of a stolen firearm, theft by unlawful taking (stolen vehicle), and felony operating a vehicle to avoid arrest.