Officers leap to save a life, hang on for their own in the process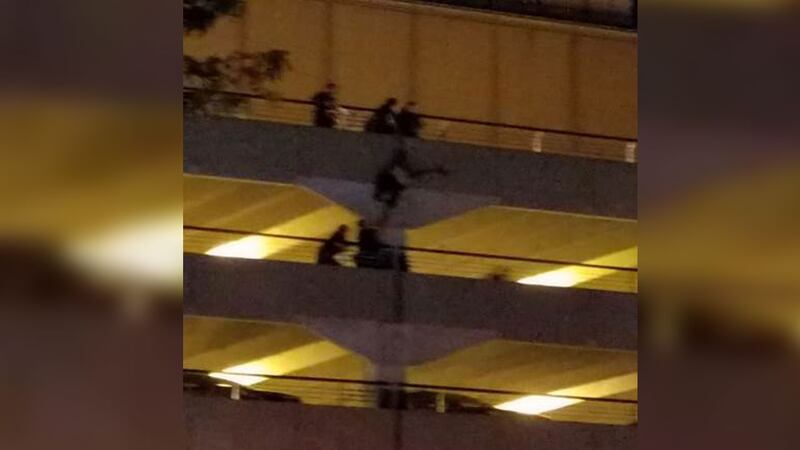 Published: Jul. 17, 2017 at 9:10 PM CDT
A local man says he's thankful to be alive thanks to Omaha Police officers. Over the weekend a handful of officers had to hold on to a man teetering off the ledge of a building downtown.
As people were leaving the bars downtown early Saturday morning, Jenny Houston became witness to a life being saved. "It was very scary," she described to WOWT 6 News.
Houston had just parked the car she drives for Lyft close to one in the morning as she watched Omaha Police officers struggle to hold on to a man who had just jumped off the top level of the parking garage near 12th & Harney.
"I could hear them say they couldn't hold on much longer and I heard somebody say they were waiting on a rope." One responding officer had spoken with the suicidal man for a few minutes before he decided to lunge over the edge.
"Sometimes no matter what training they've had at that point it's just a reaction to hopefully keep that person safe," Officer Michael Pecha of the OPD told WOWT. In this case the reaction is what saved the suicidal man. That officer talking him down had latched on to the man's leg after jumping over the railing after him.
"There's not time to think. The officers just have to trust in the training and be able to react." The officer's partner held on to him making a human chain of people who were hanging on for their lives.
"They were trying to get his other leg but they couldn't reach it," said Houston. For about 7-10 minutes other officers had to come to their aid as they struggled to pull the man back up.
Thankfully the officers were able to finally pull the man back up to safety and get him to a local hospital to get care. It was there that the man thanked the responding officers several times for saving his life.
"I just think the Omaha Police Department did a great job. I thank them for their service," said Houston. She told us throughout the entire process she could hear the officers communicating with each other and with the man in order to save him.
According to the police report the man told police he had tried this before. The man says he has been severely depressed since he was 12 years old.
Local therapists WOWT 6 News spoke with this week said depression can take years to build up. They say signs aren't always easy to spot. It's important to start a conversation if you think someone you know or love is clearly not acting like themselves.
"Depression looks different for everyone," said Elizabeth Gillaspie of Lotus Psychotherapy. "Maybe others think, well you just haven't been yourself lately. What's going on?...It doesn't just happen overnight where you wake up and think 'I just don't feel like doing this'. It's a slow progression and depression is sneaky. It sneaks up over time."
If you'd like to speak with a counselor you can contact some of the people we've spoken with this week:
Collaborative Psych Practitioners
17670 Welch Plaza
Suite 102
Omaha, Nebraska 68135
402-810-8161
Lotus Psychotherapy, LLC
17670 welch Plz Ste 102
Omaha, NE
402-885-9855