New tool used to detect child abuse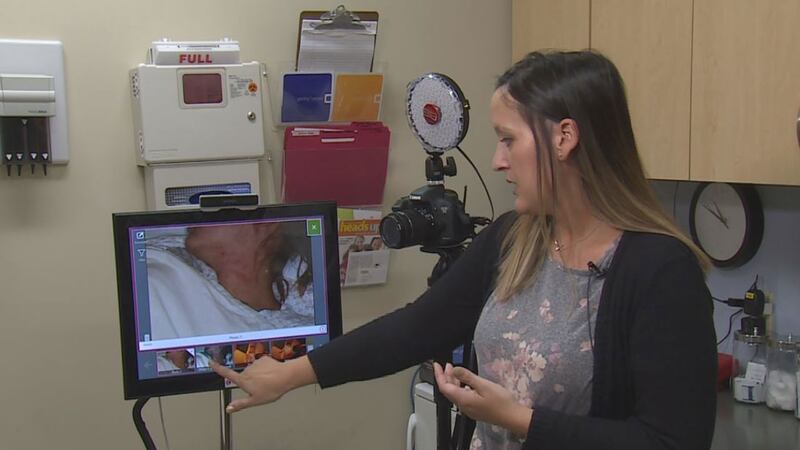 Published: Oct. 11, 2017 at 10:05 PM CDT
When the mission centers on ending child abuse and neglect, the last thing one wants to do is re-victimize a victim. The latest tool for Project Harmony is a software program and camera allowing for a faster and smoother exam with clearer pictures for investigators.
"We are the first to demo it," said Project Harmony's Ashley Urbanski. "Sometimes we just can't see everything."
For example, instead of wearing orange glasses and using a flashlight to look for DNA evidence – the new system does it with a simple filter.
"First we show them what's going to happen. Nothing will hurt and we are just looking at their bodies," explained Urbanski.
Urbanski is a nurse practitioner. She demonstrated how the camera and software can also see what our eyes cannot.
"This is an example of physical abuse. You see the marks on the neck. It looks red. But when you use the filter, it is really significant. You can see how severe the injuries are," she said.
"The better educated and informed our community is – the more likely we can prevent it from happening in the first place," said Executive Director of Project Harmony Gene Klein.
It's why Project Harmony has mobilized 250 community professional from mental health to law enforcement to be its on-campus partners.
It's another layer of service to limit the trauma of young victims suffering from abuse or neglect.
The Omaha Police Department's Domestic Violence Unit is the newest tenant at Project Harmony.
"The number of staff we had when I started in 2002 was 6 employees. Today we have 75," said Gene Klein. "The intersection between domestic violence and child abuse is pretty close, and whenever kids are living at a home with violence – even if the kids aren't direct victims – they're impacted by that abuse."
The Omaha Police Department's domestic violence unit moved in June.
"Most large metropolitan areas don't have the facility that Project Harmony offers," said Sgt Scott Warner with the Omaha Police Department. "It can't be overstated how important what they have here to offer our victims. I feel incredibly fortunate in the job I do to have these resources available."