Gov. Ricketts details changes for childcare centers, health measures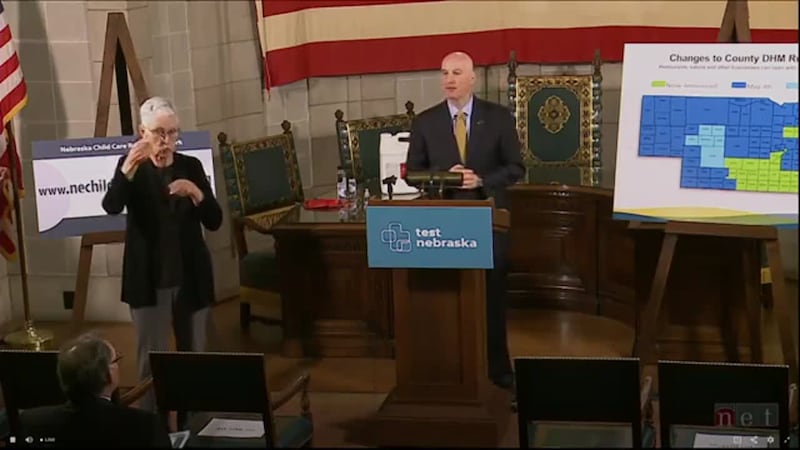 Published: May. 4, 2020 at 10:17 AM CDT
Nebraska Gov. Pete Ricketts began his Monday press conference on COVID-19 with details on Test Nebraska sites underway in Grand Island and Omaha.
A "soft-launch" for testing in Omaha at the CHI Healthcare Arena is underway today, Ricketts said. Since 6 a.m. there has been testing underway in Grand Island, too.
"I want to thank the National Guard for the work they are doing," he said. "Fantastic work."
May 4 is the first day of restrictions being eased as per Ricketts' directed health measure announced previously.
"To see continued loosening of these restrictions we need people to keep social distancing and testing," he said.
On childcare centers, the limit has been updated to 15 people per room instead of 10, Ricketts said.
He introduced Betty Medinger, senior vice president of the Nebraska Children and Families Foundation.
Medinger said in response to the pandemic, more Nebraskans are searching for childcare centers that are open. The foundation figured out how to do an inventory with up-to-date information on their website for centers.
The website
.
Ricketts said the federal government has made about $10 billion available in assistance to critical-access hospitals, of which Nebraska received about $272 million.
Ricketts took questions submitted by reporters -- one of which asked him to address the issue of residents in districts with greater virus activity being seen in districts with relaxed guidelines.
"If you're in one of those districts with a directed health measure that is more restrictive, we ask you to continue to follow them and avoid going to restaurants in other areas, for example," he said.
Ricketts was asked why not issue DHMs county-by-county instead of by district. He said the restrictions are being managed in a way to avoid overwhelming the healthcare system.
Relaxing restrictions on churches and other worship sites help reach out to communities about the ongoing pandemic, Ricketts said, on top of spiritual help everyone needs in times of crisis.
On the data gathered by TestNebraska, Ricketts was asked if information for those being tested could be accessed by law enforcement or others. Ricketts said no, the data will only be used in regards to testing by the state.
Regarding numbers on Nebraskans diagnosed with COVID-19 and recover, Ricketts said the focus has been on identifying positive cases first, but later on he would like to see numbers on recoveries available.
Answering a question about wearing a mask while getting a haircut, Ricketts said masks must say on as per the DHM -- it's not a suggestion, it's the law, he clarified.
Ricketts was asked if he would recommend people go out to restaurants now that restrictions have eased. He said he recommends people do what they are comfortable with.
"If you are comfortable with going to a restaurant, go to one," he said. "But if you're in a higher-risk category, you'll be putting yourself in higher risk," he said.
He was asked if he is planning on going to a restaurant. Ricketts replied yes, maybe later this week but he has not made plans yet.
On social distancing while shopping, Ricketts said big box stores and other businesses must still implement guidelines and Nebraskans must follow them.
"If you see an example of how somebody is not doing a good job, take a picture of it, go talk to the store manager. If that doesn't work, let the mayor's office know and have them reach out to the company," he said.
"Let's do it the Nebraska way, let's talk first. Let them know," he added.
Dr. Gary Anthone, chief medical officer and director of Nebraska's Division of Public Health responded to a question about COVID-19 tests detecting antibodies.
Antigen testing seeks to identify the virus itself, most commonly through a nose swab. Antibody tests detect if one has antibodies that are produced by the immune system and show that the patient had the virus, Anthone explained.
"An antibody test will tell you, you are probably going to be immune for a period of time against that viral particle," he said. "Hopefully by this time next year we'll have a vaccine available."
—