Mom warns parents about new flu symptom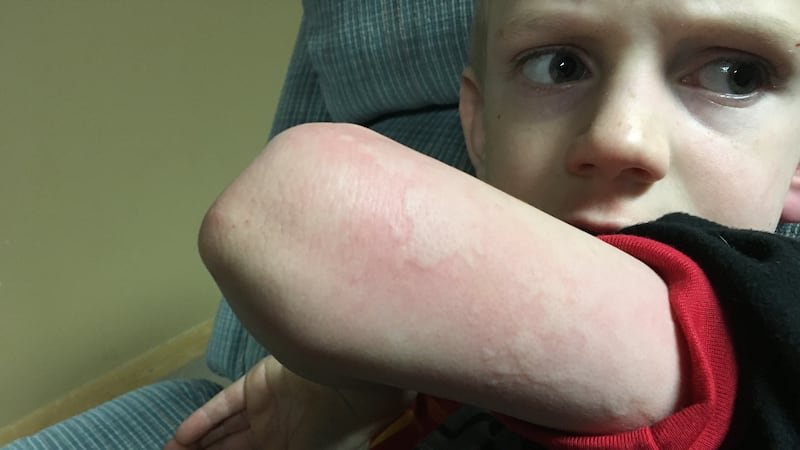 Published: Jan. 29, 2018 at 9:36 PM CST
A local nurse is sharing a warning to parents after her son came home from school with hives. Brodi Willard quickly learned her family is not alone.
"We gave him a bath, washed his hands and cleaned him all up, and he still had the hives, so I called the doctor," said Willard.
The doctor diagnosed her son Seb as having Influenza B, saying it's a new and unusual flu symptom happening right now.
"They put him on the Tamiflu, and he's been fine," she said. "He's still playing and running around."
Brodi is a nurse herself, so she wanted to spread the new information. She posted the warning on Facebook, and it's been shared hundreds of thousands of times already.
"I didn't realize it was going to go as viral as it did on the web, and I even saw some comments of people saying 'yes my child had hives and they also tested positive for Influenza B,'" Willard added.
Experts say the flu virus is always mutating.
"It always changes slightly," said Senior Epidemiologist Dr. Anne O'Keefe with the Douglas Co. Health Department. "That's why we have to have a new vaccine every year. We watch the changes happening in other parts of the world right before it gets here."
Seb may be feeling just fine, but he can't go back to school until Wednesday. Brodi hopes this story serves as a warning to others that if it doesn't seem right, check with a doctor right away.
"It's something that everyone needs to be aware of," said Willard.
The CDC is calling it "the flu from hell" this year. It's the country's worst season since the Swine Flu scare back in 2009. So far, 37 people have died, and experts say we still have a long way to go before it's over.
Health experts still encourage you to get the flu shot. They also urge you to wash your hands thoroughly and frequently.