State of emergency declared in Omaha; 8 p.m. curfew begins Sunday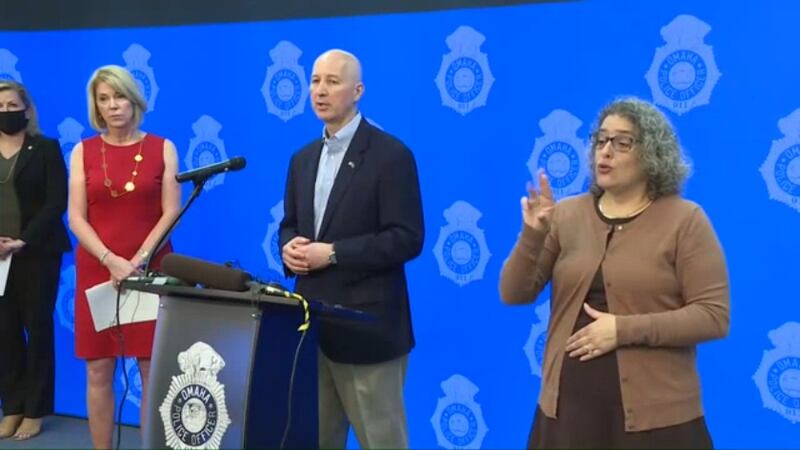 Published: May. 31, 2020 at 12:09 PM CDT
Here is the proclamation by Mayor Jean Stothert made Sunday instituting a city-wide curfew:
"A curfew is imposed from 8 p.m. until 6 a.m. within the city limits. During the hours of the curfew, no person shall be upon any public street, avenue, boulevard, sidewalk, alley, park or other public places.
No gatherings in excess of 25 persons may occur on any public street, avenue, boulevard, sidewalk, alley, park or outdoor place except persons who are awaiting transportation, engaging in recreational activities at a usual or customary place or peaceably entering or leaving buildings.
This order shall not apply to law enforcement personnel, fire and medical personnel, members of the media, individuals traveling to or from work, individuals providing emergency medical care, persons experiencing homelessness or other personnel authorized by the City of Omaha, the Nebraska State Patrol or the Nebraska National Guard.
For purposes of this order "public place" means any outdoor place or area, whether on privately or publicly owned property, accessible to the general public.
Violation of this emergency order is a misdemeanor offense punishable by a fine of up to $500 or imprisonment up to six months or both.
_______________________________________________________________________________________
At Sunday's afternoon news conference, Omaha Mayor Jean Stothert announced she has declared a state of emergency and is instituting an 8 p.m. curfew for the city.
Gov. Pete Ricketts said he is mobilizing the National Guard.
The state of emergency will last 72 hours. The curfew will be in effect from 8 p.m. to 6 a.m. No one is allowed in public places with exceptions of those using transit, people going to businesses and recreational activities.
No gatherings of more than 25 people will be allowed.
"Our message for the peaceful protestors is, we hear you," Ricketts said. "Justice must be served for George Floyd."
Ricketts said the protests were hijacked by perpetrators of violence and those seeking to harm Nebraska cities.
Omaha Police Chief Todd Schmaderer said Saturday was one of the longest nights the City of Omaha has seen in its history.
"There were shootings, assaults, violence against police, property damage... an arrest was made for a man with a molotov cocktail," he said. "As chief, I need to make sure we can provide security and protection for our community."
The National Guard will be embedded with the police department. "I do not want a military occupation," Schmaderer added.
The FBI has also been involved to run background checks of the 51 arrests made yesterday.
A peaceful protest is scheduled at the Malcolm X Memorial Foundation tonight at 6 p.m.
The suspect from the alleged homicide in the Old Market was not released and has been in police custody since he was detained, Schmaderer said. He said he does not condone any vigilante action for business owners concerned their property may be damaged.
_______________________________________________________________________________________
In the aftermath
Saturday night, Omaha Mayor Jean Stothert, Omaha Police Chief Todd Schmaderer and Nebraska Gov. Pete Ricketts will speak at a press conference at 2 p.m. at OPD headquarters.
The protests
, allegedly at the hands of a now-former Minneapolis Police Officer, who stands accused of murdering Floyd.
Here's the latest:
The peaceful protest that began Saturday morning escalated throughout the day as police were confronted with agitators, according to authorities.
Rocks and bottles thrown at officers resulted in the gathering being declared an unlawful assembly -- tear gas and pepper balls were fired at the crowd which began to disperse.
Later that night, the protest moved to downtown at OPD headquarters. Buildings had windows smashed, officers were the target of fireworks and rocks while more tear gas filled the air.
A civilian was shot and killed near 12th and Harney Streets downtown around 11 p.m. A suspect is in custody but police have not released their identity.
The deceased has been identified as James Scurlock, of Omaha, 21. He was found at 1207 Harney Street suffering from a gunshot wound and died after being taken to the Nebraska Medical Center, according to authorities.
Police said they are not looking for suspects and the investigation continues.
Sunday morning brought droves of volunteers downtown to pick up the pieces in the wake of the chaos.
A prayer event is planned at 72nd and Dodge Streets at 3 p.m. Another rally is scheduled to begin around 6 p.m. at the Malcolm X Memorial Foundation near Evans and 36th Street.