Man injured in 2014 explosion receives mortgage payments for 6 months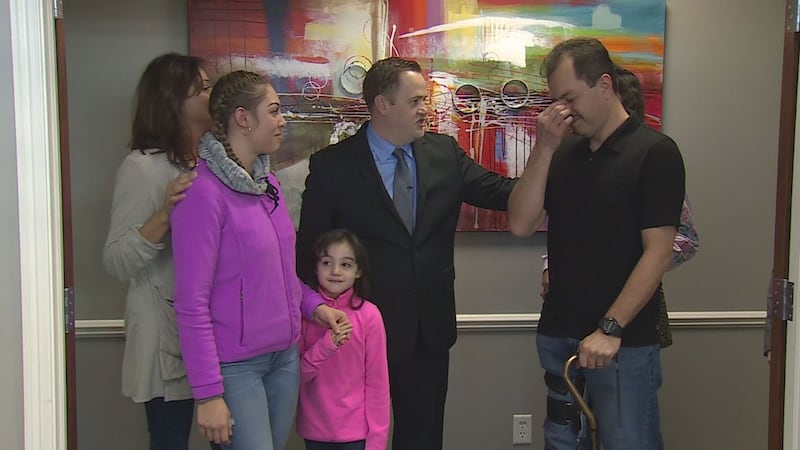 Published: Dec. 13, 2017 at 8:56 PM CST
This is the time of year we're often reminded of the generosity of the community.
"Walter, your family has been chosen to win the mortgage payments for 6-months. We appreciate all you do for the community – and all you've done for your family – and your family is amazing," said Bill Altman with Premier Group.
Walter Alecio and his family of five arrived at an office complex believing this was another interview in a charitable giving contest. He was completely surprised by the mortgage payments.
"Three Christmases in a row where we didn't have anything. It was a struggle. We pretty much moved birthdays and Christmas to a future thing."
The "future thing" came Wednesday from The Premier Group and Gradient Gives Back Foundation. In addition to the parents receiving mortgage payments for half-a-year, the girls received presents.
"Help families on hard times. It's not a hand out – but a hand up," said Altman.
The timing couldn't be better. This is when Walter Alecio gets most anxious and depressed. Next month, it will be four years since he scrambled for his life.
He was working inside International Nutrition when the Omaha plant collapsed. Two of his friends died. Several others were injured including Walter Alecio. His leg was crushed as he helped others.
"The pain is overwhelming. Most people dream about traveling. My dream is to go up and down stairs. This turned my whole world upside down. Some days I feel like I'm making progress, and then I'll be in bed for 3 or 4 days," said Alecio.
The struggle has been softened by a family that sticks together. These once-strangers are their newest members.
"This is a wonderful, beautiful Christmas. We're so blessed. Thank you," said Walter.
Ever since the housing crisis of 2008, the foundation has helped people who are at risk for losing their homes and have fallen on hard times. Someone nominated this family for the honor.