Gov. Reynolds addresses testing backlog, economic growth phase for Iowa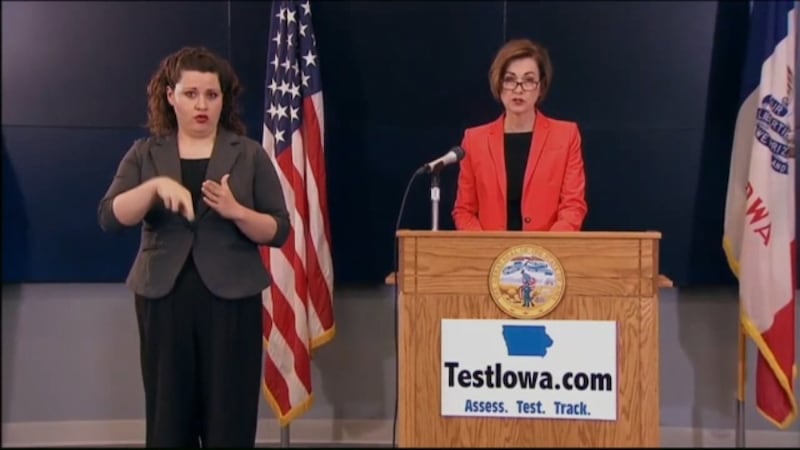 Published: May. 4, 2020 at 10:18 AM CDT
Iowa Gov. Kim Reynolds along with other Iowa officials addressed COVID-19 testing backlogs and new confirmed cases in the state on Monday.
Reynolds began with the announcement of 4 deaths and 534 new positive cases of the coronavirus in Iowa, bringing the state's total to 9,703.
About 85 percent of the new cases stem from 22 counties with restrictions on businesses and social distancing still in place.
Monday's new addition of negative test results was 3,441.
As numbers of cases continue to rise, Reynolds said a backlog of results is being processed and spikes are expected.
Reynolds remarked the week is Public Service Recognition Week.
"From the Department of Public Health for its leadership during this crisis to the Department of Education for keeping students and families and schools keeping them connected, I want to give a heartfelt thank you," she said.
Strike teams working around the state to increase testing, track virus activity, and other measures is a great example of public service working for Iowans, Reynolds added.
A resident at the Woodward Resource Center tested positive for COVID-19, the first at any of the six DHS facilities, Reynolds announced.
Six residents total have tested positive on Monday, according to Dr. Kelly Garcia, director of the Iowa Department of Human Services.
"We've pulled in a team of doctors for additional technical assistance from the University of Iowa," Garcia said. "Throughout the pandemic, I've talked to facility leadership twice daily."
DHS has increased staff, testing, resources and more to respond to the pandemic at the facilities, she said.
"We will use every tool at our disposal," Garcia added. "I am grateful to my team for the work they are doing."
TestIowa's third location will open today in Sioux City, Reynolds said. DHS employees, volunteers and members of the Iowa National Guard are all pitching in to collect and process tests.
Reynolds was asked about the test backlog, which she said should be caught up today. On detailing test results, Reynolds said total numbers have been reported and does not expect changes to the process to detail those who were symptomatic or other factors.
A validation process makes sure the tests from TestIowa are confirmed through the same criteria as tests processed by the State Hygenic Lab, Reynolds added.
Reynolds was asked about an Iowa man who tried several times to get tested and eventually was diagnosed with COVID-19 but recently passed away.
Reynolds said any death is heartbreaking, but if you are showing symptoms, you must contact your doctor. If you're not satisfied with their answer and still feel ill, she encouraged Iowans to seek a second opinion.
Asked about her next phase for the state's reopening, Reynolds said the first phase was to flatten the curve, which Iowans did.
The second phase was to ease mitigation efforts for 77 of Iowa's 99 counties, like reopening businesses and allowing elective surgeries.
Later this week she will give details on an economic task force through her office for strategies on how to grow the economy again.
Concerning a Tyson Foods plant in Iowa which has been a hotspot for COVID-19 activity, the state will have more information on the cases there later today, according to Sarah Reisetter, deputy director of the Iowa Department of Public Health.
Reynolds was asked about how to balance political pressure for the state to reopen businesses.
"This isn't political. That's one of the reasons I've been able to stand here every day and talk to Iowans about decisions based on data and metrics," she said. "Based on the expertise I have working for the citizens of Iowa."
Some of the hardest decisions Reynolds has had to make while governor has been during the pandemic, she added. Iowa was thriving under a great economy with full cash reserves and low unemployment.
"It's been heartwrenching," she said. "But we are going to continue to make decisions based on the recommendations of experts."
—