Flood victims get a break from recovery work with a day at the zoo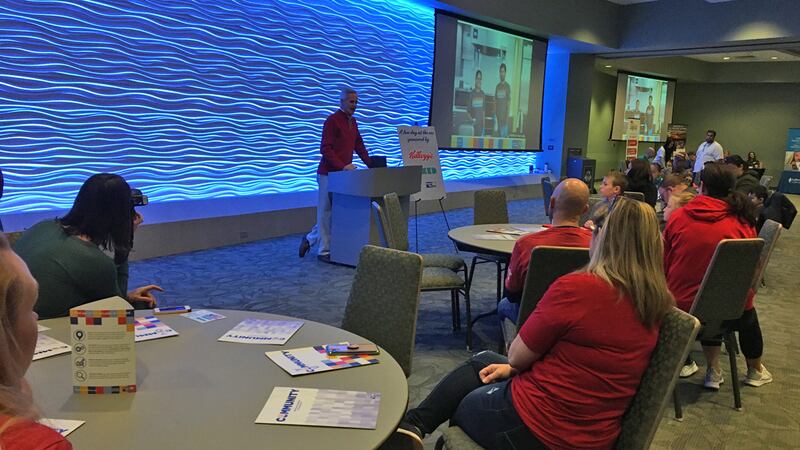 Published: Nov. 3, 2019 at 12:08 PM CST
A season away from the devastating floods that savaged the heartland, some of its victims got a chance on Sunday to take a breath and take a break from their high water troubles.
Three organizations teamed up to provide a day at the Henry Doorly Zoo and Aquarium for those affected by the flooding.
United Way of the Midlands; Kellogg Company Fund (the charitable arm of Kellogg Company), and online wholesaler Boxed arranged for the day off from the weighty matters of flood recovery - a 10 a.m. to 3 p.m. respite.
Featured activities scheduled included interactive animal exhibits; face painting; goodie bags; a photo booth; refreshments; coupons for concessions and appearances by Kellogg's characters.
Local organizations involved in long-term relief were also there making sure that families had resources available to them all in one space while providing a fun day for their kids.
Organizers said the idea was to provide a fun and relaxing break from the tensions of recovery.
Approximately 1,500 people had free entrance to the zoo. Many are cash-strapped because of flood losses.
Lieutenant Governor Mike Foley also spoke, recounting the past eight month and detailing what work is in place to fix some of the major issues still in play.
Flood victims Jim and Loraine Davenport moved back into their home just weeks ago and say it's the help from their community that has helped them get back on their feet.
Jim said, "It's made all the difference in the world and we're so thankful for that and all the assistance we've had. There's no way we would have been back in this timeframe without them."
They say even a small gesture like a free day at the zoo helps them know their community is on their side after all this time.