Flock of peacocks live in Omaha neighborhood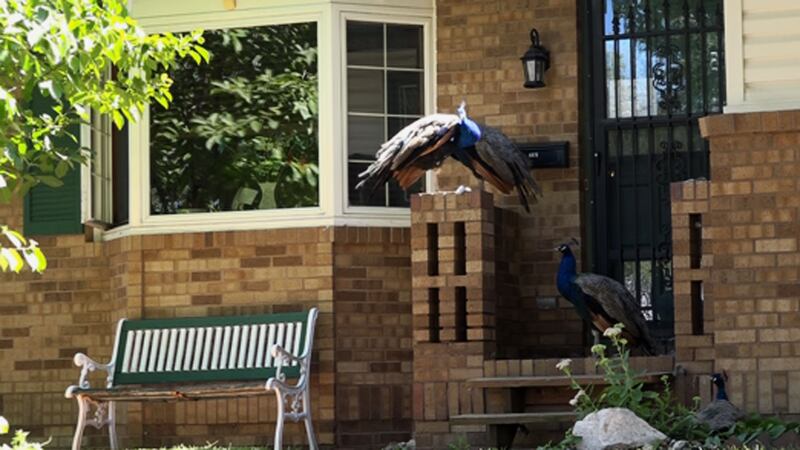 Published: Aug. 28, 2016 at 3:20 PM CDT
It's not unusual for a couple to move into a neighborhood and over time their neighbors watch a family grow. But nothing like one in south central Omaha. A flock of peacocks that are not fly by night neighbors.
Residents near 53rd and L streets like Marlene Blickenstaff have grown used to a family of peacocks living among them.
"I think it's unique, not every neighborhood has got peacocks and they keep the spiders down," Blickenstaff said.
The birds spend nights in a neighborhood tree, but days roaming a five square block area. Usually the adults pose like yard statues on a porch at one house. Paul Rios lives here and he's grown used to Peacock ways.
"They hang out, they're peeping Toms and look in our windows. It's rare peacocks come over, just hangout and live," Rios said.
Longtime residents say two peacocks showed up about 4-5 years ago and since then they've grown from a few to a flock: Now, five males a female and chick somewhere hidden away.
"Very interesting and like I said I think this is the third generation," said neighbor Kathy Piksa.
Nobody seems to know why the first peacocks landed in their neighborhood but it's easy to see why they stay. Flocking from one yard to another the family of seven makes for colorful neighbors.
WOWT 6 News checked with Henry Doorly Zoo and bird experts say it's very unlikely the peacocks came from there; where the first couple flew in from remains a mystery.