First responders add life-saving gear for mass casualty response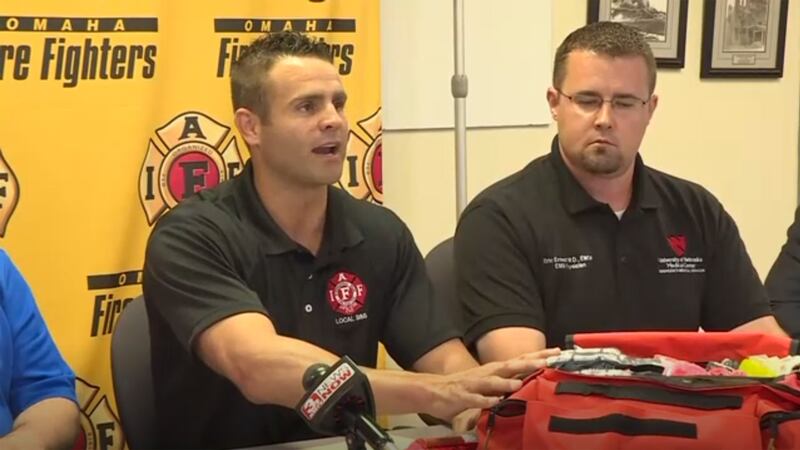 Published: May. 30, 2018 at 9:21 AM CDT
Omaha fire crews are getting new tools to help in the event of a mass casualty incident and those tools were put on display Wednesday morning.
The Bleeding and Shock Kit Project will outfit 24 emergency response vehicles, including 16 medic units, seven battalion chief vehicles and one paramedic shift supervisor vehicle, with life-saving, mass casualty kits that will include:
(1) Equipment Bag
(12) Combat Application Tourniquets
(12) Israeli Pressure Dressings
(12) Occlusive Dressings
(12) Decompression Needles
(12) Gauze Rolls
Trauma Sheers
Koban Rolls
Dustin Talacko, an Omaha fire fighter and member of the Omaha Professional Fire Fighters Association, Local 385, led the campaign and outlined its goals at a news conference.
Talacko was inspired to develop the project following the Las Vegas concert shooting and an overall increase in mass casualty events throughout the country.
He said, "The Omaha Fire Department is well-equipped to respond to more than 45,000 medical calls annually however, in the event of a devastating casualty situation there are specific life-saving needs that need to be accommodated."
He sees these kits as the answer to that. "These are on the front line apparatus and they will be at the scene within minutes," he said. "I promise you these will save multiple lives."
He said while there is no indication of any imminent threats, the kits will fill a void. He said the gear saved lives in the Las Vegas shootings.
"We have a lot of soft targets here with the College World Series, Berkshire Hathaway, all those different event that we have so something could happen at any time and we just want to be prepared."
The First Responders Foundation will serve as fiscal agent of the project, allowing corporations to make a tax deductible donation toward the kits. Anyone can make a donation by texting OFDKITS to 91999 to donate, or by visiting
.
Talacko's goal is to raise the $25,000 needed for the kits by the beginning of this year's College World Series on June 16.
"Lock-tight safety measures are already in place for the College World Series and other large events in Omaha," Talacko said, "but if having these extra safeguards in place can save even one extra life – should the unthinkable happen – then they are a necessity."
---
Bleeding and Shock Kits Project
UNMC and CHI Health have both donated $5,000 to the project.
Metropolitan Community College is supporting the initiative by ensuring educational partners have the materials they need to enhance the training of and response to any event.