Family, friends of killed motorcyclist gather before sentencing hearing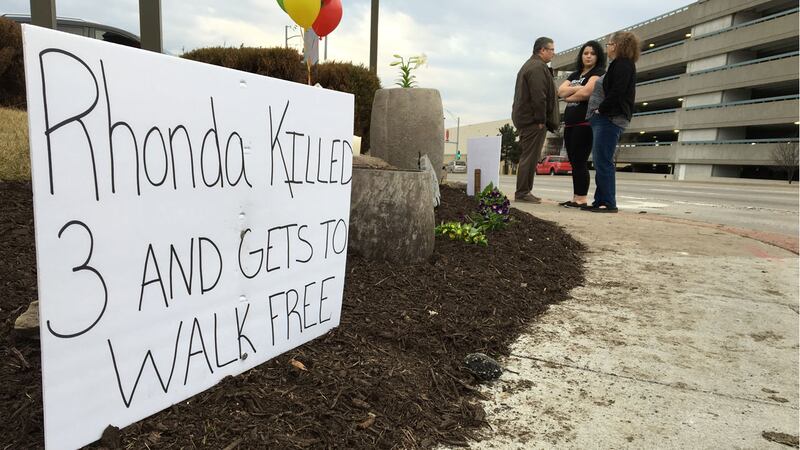 Published: Mar. 28, 2018 at 7:45 PM CDT
Ahead of the sentencing for Rhonda Boisseau, the friends and family of Andrew Torrice met at the spot where he was killed in June to remember those who died that night.
In January, Rhonda Boisseau pleaded down to a misdemeanor count of willful reckless driving. She originally had a false information tacked on with it.
Prosecutors say she called 911 to report a group of motorcyclists. She then followed one when he ran a red light and crashed into another couple. Adam Kamman, Christine Zadina and Andrew Torrice all died that night.
"Rhonda Boisseau is a murderer, plain and simple," Andrew's mother Kristine Torrice said. "She's basically getting a traffic ticket for murdering three people."
Kristine and her family have been closely following the case since its inception. She and her husband Scott even flew in from California Tuesday to be in court during Boisseau's sentencing Thursday.
Wednesday evening, though, was the show of unity for the family and friends of those who were killed back in June.
Dozens of bikers throughout the metro packed the corner of 72nd and Cass Streets.
"If we can make this as loud as possible then the community knows, and the community can make sure she doesn't forget," Andrew's father Scott Torrice said.
Boisseau will be sentenced Thursday. Prosecutors said evidence doesn't support a harsher charge than the misdemeanor she faces.
"Even if she doesn't face here, she'll face it because one day, she will have to face God," Kristine said.
Prosecutors previously told 6 News Andrew would have been charged should he have lived the accident, but Kristine and Andrew's insurance company believe otherwise.
"They found that had he not been chased that night, that that accident would not have happened," Kristine said.
Much of the details of the case still linger and still hurt, but the family is moving on. They are currently focused on raising Andrew's young daughter Abigail.
Come Thursday, too, Kristine and Scott will be able to meet one of the women who came to help Andrew the night he died.
"I'm kind of jealous of her because she held my baby's hand, and I'm grateful for her that she held my baby's hand when he died," Kristine said.
6 News did contact the Douglas County Attorney's office to confirm whether Andrew would have faced charges. County Attorney Don Kleine said he would make comments once sentencing has been completed.
Boisseau's sentencing hearing is set for 10:30 a.m.