SUNDAY FLOOD UPDATES: Supply convoy escorted to Fremont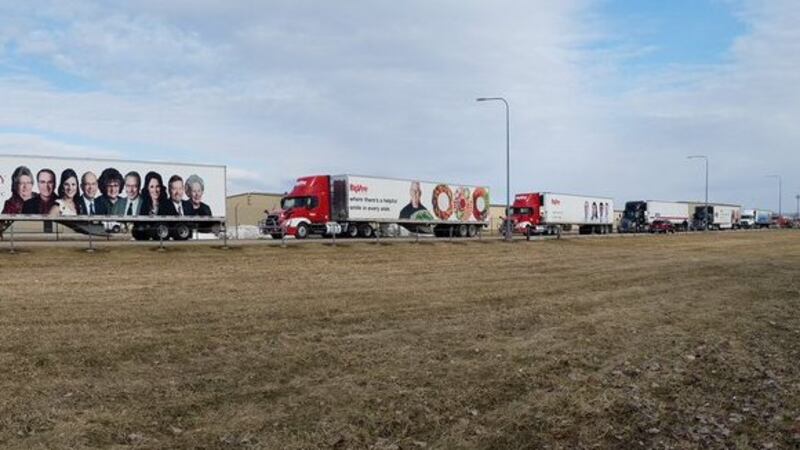 Published: Mar. 17, 2019 at 11:05 AM CDT
Below are the latest flooding and weather-related reports throughout the region for Sunday, March 17:
While the drinking water is safe,
. [
]
Water is now restricted to indoor use only. While Lincoln's water quality is not affected by Platte River flooding, the City of Lincoln was asking residents to shorten showers and postpone dishwashing and laundry.
,
,
, and Hy-Vee
. The trip took about two hours from Omaha, according to
, and included a carava of HyVee trucks, and fuel tankers.
Valley and Waterloo again enforcing a curfew. Those residents who are not rescued at that time will need to find shelter until sunrise Monday, when rescue efforts will resume. Those with a medical emergency can still call 9-1-1 to be rescued overnight.
Due to a high volume of donations, the Salvation Army donation dropoff at the old Canfield's building will remain open through the week. Donations will be accepted Monday through Friday from noon to 6 p.m.
Preferred items include:
Council Bluffs and Pottawattamie County officials said that floodwaters along the Missouri River have begun to recede and that the levee system in Council Bluffs is performing as usual.
Emergency Management officials will begin damage assessment in the county on Monday, with the main focus on infrastructure. Residents and businesses should
DC West Community Schools has announced they will be closed for the entire week because of flooding in the area. The area the district serves is affected by flooding.
NPPD says Cooper Nuclear Station is operating as usual but continues to be in a Notice of Unusual Event. Water levels in the area have been receding, and there is no indication of leakage in the facility.
The National Weather Service canceled the flash flood warning for North Bed. Water is no longer expected to pose a significant threat.
The National Weather Service issued a flash flood emergency for Hamburg due to levee failure. The emergency is in effect until 3:30 a.m. Monday. The Army Corps of Engineers reported a flood gate on a levee is overtopping and water levels in the town are already rising.
The National Weather Service issued a flash flood emergency for North Bend due to levee failure. The emergency is in effect until 4 a.m. Monday. Law enforcement reported a levee breach on the Platte River to the west of town. This will cause rapid water level rises in the area. Residents are advised to move to higher ground immediately.
The mayor of Pacific Junction has issued a mandatory evacuation for all residents of the town living west of Depot Street. Water is rising and the structural integrity of the containment system could soon be lost. Gas has been shut off to the entire community and electricity shut off to the west side of town.
Releases from Gavins Point Dam were reduced to 53,000 cubic feet per second this morning and will fall to 43,000 cubic feet per second by this evening.
Releases from Fort Randall Dam which is upstream from Gavins Point have been reduced to 4,500 cubic feet per second. [
]
Mills County passed a resolution that allows county officials to give an infraction to those who disobey evacuation orders and curfew provisions. The amount punishable would be $750 for the first offense and $1,000 for subsequent offenses.
There are multiple levee failures south of Highway 34 and water continues to accumulate in the area. Areas along Interstate 29 are also taking on water.
Pacific Junction remains under an Emergency Evacuation Preparation Recommendation, meaning residents should be ready to leave if an evacuation is issued.
Volunteers helped the county fill 10,000 sandbags and the Grace United Methodist Church is providing meals for volunteers, workers and residents affected by the flood.
Unified Command has ordered all drone pilots to adhere to
Drone pilots should respect emergency flight operations and not get in their way. Drones can be a hazard to the pilots conducting rescues.
A
said evacuation operations are underway in North Bend, even for homes that are not flooded. The water and sewer systems are unusable. Evacuees are asked to go to Snyder Ballroom.
DC West Community Schools has canceled school for Monday, March 17. The area the district serves is affected by flooding.
M.U.D. continues to operate normally and all drinking water continues to meet state and federal standards. They have reported an increase in scams where callers pose as the utility. Anyone who receives one of these calls should call 402-554-6666 on weekdays and 402-554-7777 on evenings and weekends.
The Salvation Army is continuing to collect donations at the old Canfield's building near 84th and Center until 7 p.m. Sunday. Their volunteers were serving evacuees at Elkhorn Middle School, preparing flood-cleanup kits and recruiting
The Nebraska Emergency Management Agency said they expect more record crests in the next day or two. Those include:
The American Red Cross is operating 22 shelters for 660 evacuees. At one point it reached 1,193 evacuees. [
]
The Nebraska National Guard rescued 111 people and 13 pets, the Nebraska State Patrol rescued 163 people and Nebraska Task Force One rescued 16 people and 11 pets. Task Force One did not complete any rescues in 2011.
The State of Nebraska, 53 counties, 54 cities, and two tribes have issued emergency declarations.
Iowa Gov. Kim Reynolds plans to hold a press conference in Sioux City, Iowa to give an update on the flooding. The press conference will be at 4 p.m. at the Sioux Gateway Airport. The governor will tour Missouri Valley before the conference, at 1 p.m. and tour flooding in Hornick at 2:45 p.m.
According to the National Weather Service, fast-moving water prompted evacuation operations in Thurman, Iowa. It was likely caused by levee breaches.
The National Weather Service issued a flash flood warning for Pacific Junction, Percival, and Bartlett in Iowa.