'He didn't die alone': Video captures witnesses abandoning vehicles to help shooting victim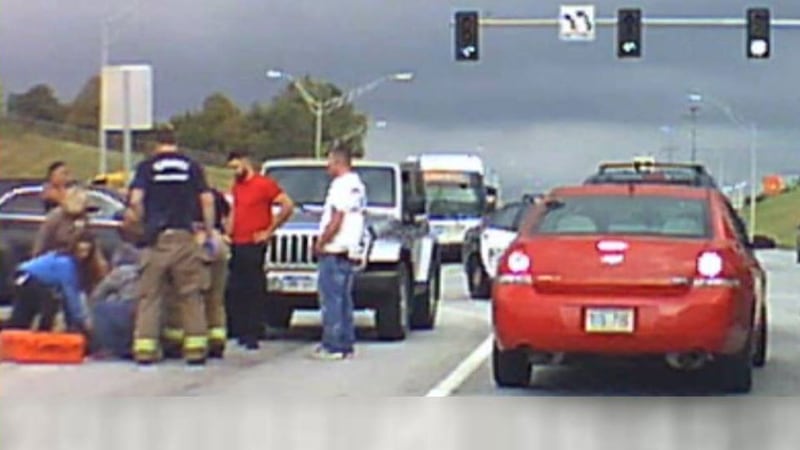 Published: Sep. 19, 2017 at 9:38 PM CDT
Omaha Police have received dozens of tips as they search for whoever gunned down a truck driver in a possible case of road rage Monday.
Witnesses said 32-year-old Army veteran James Womack was shot as he was walking back to his semi trailer.
Dash cam video shows a group of bystanders abandon their vehicles and rush to help Womack – just seconds after he was shot on a busy street.
"I clearly heard two gun shots," said a witness whose dashcam video caught parts of the incident.
The man who recorded the video wants to stay anonymous. He helped lead the Good Samaritan attempt to save Womack's life.
"One lady said, 'hey, we're here to help you. One lady also offered a sweatshirt that we could put underneath him to raise his torso enough so we could safely start moving him," he said.
As a former first responder, this man knew Womack likely wouldn't survive, but he did what he could anyway. If you look closely, you can still see a few faint blood drops on the pants he was wearing as he tried to stabilize Womack.
"I chose to stabilize his neck, stabilize his airway as best I could," the former first responder said.
A young nurse also offered aid, starting CPR before emergency crews took over. And even though their efforts weren't enough, this man hopes Womack's family can find some comfort knowing, in the end, he wasn't alone.
"It does help restore your faith in humanity to some degree," he said. "He did have people there at that moment who were willing to step in and do what they could to help in his final moments."
The man we talked to also shared his video with Omaha Police. The video does show the shooting itself. But the man doesn't want to jeopardize the investigation, so he didn't share that part with WOWT.
The man who recorded the video has been in contact with Womack's family – answering their questions and sharing his condolences.
Womack leaves behind three
At a prayer vigil held Tuesday, friends and even strangers gathered to remember Womack. Dave Wesson was a friend of Womack's, he wanted to thank those praying and to send thoughts to his friend's family at this time.
"I'm terribly sorry for their loss. I'm terribly distraught myself over this," said Wesson. "I hope that they catch the person or persons who are responsible for this and I hope they go to prison for a long, long time. I hope they never get out."
A GoFundMe page has been set up for the family. A memorial fund has also been established at American National Bank.