Bluffs woman launches athletic apparel line designed for all body types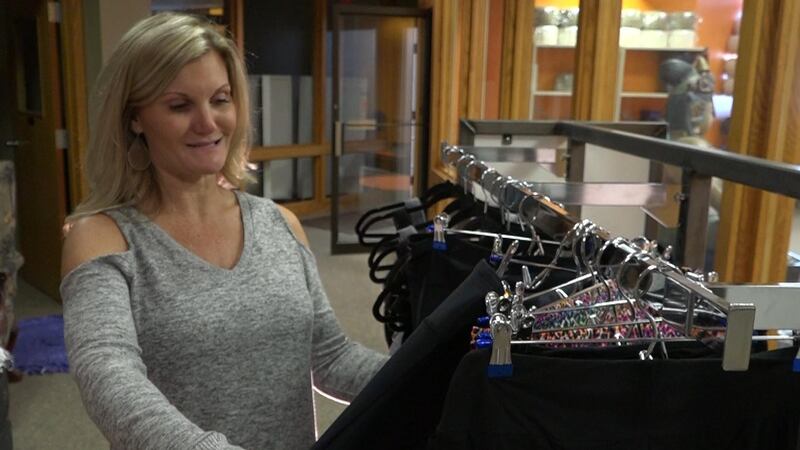 Published: Oct. 24, 2017 at 3:30 PM CDT
In the making for more than a year, and the new H2W Apparel brand has launched for up and coming designer Tamara Brunow.
Like many women, Brunow struggled to find a bra comfortable enough to support her busy and active lifestyle. Brunow owns her own construction company, has a family, and runs a yoga studio in her spare time.
The discomfort, though, wore on her until she had had enough.
Brunow tells 6 News she was on a flight home from a business trip in Washington, D.C. when she put together the design written on the back of a piece of paper.
"I am no artist. I've never done any type of design or apparel work. I just knew that the actual constructed design of the actual sports bra almost every woman I talked to hated," Brunow said.
From there, Brunow's design became a Frankenstein of a model from bras she pulled apart at different stores.
"I had to hot glue it because I don't know how to sew. I literally hot glued this thing together. That's how it started," Brunow said. "I have parts of pieces: I had straps cut of bras, I had bands cut, zippers."
It became personal for Brunow when four months ago, she was diagnosed with skin cancer.
"I went through three incision surgeries in a month, and the worse thing in the world with my back and shoulder was trying to put on a regular bra. [It] was horrible. It was right then that I realized just how important this was and needed because I was able to slip it on," Brunow said. "I could zip it up even with my bandages on my back without anything rubbing on them. It was a lifesaver."
The bra is now available for everyone to buy, and it features wider straps, a zipper front and Brunow's patented H back.
"It doesn't hit high up on the collarbones. It doesn't fall off your shoulders. It hits nice on your back, and it doesn't look orthopedic. It looks nice," photographer and customer Brenda Orr said.
However, what makes Brunow design stand out besides what she says is most comfortable is her sizing, which is designed to accommodate all body sizes.
"Nobody wants to make clothes for the average woman," Brunow said.
The bands are catered to different body sizes, and the cup sizes change, too, making it friendlier to all body types.
After noticing several women in her hot yoga class suffering through clothing that didn't fit properly, Brunow knew she needed to expand her line to athletic wear as well.
Brunow tells 6 News she reached out to a company that she sold apparel for in her studio to form a partnership.
"The blowback I got was terrible," Brunow said. "It was, 'We don't market to that demographic. We don't want those people in our clothes. That's not a representation of our brand.'"
Brunow no longer carries the brand, but it was the fire needed to really push herself to get H2W Apparel off the ground.
"Seventy-four percent of us are over a size 10, and that's perfectly fine. But there's no reason why we should be excluded from comfortable performance wear," Brunow said.
The feedback, Brunow said, has been overwhelming. She hears story after story of women thoroughly pleased with the line.
Annie-Lori Thompson is a power lifter, distance runner, trainer, nutritionist and mother of three. She is one of several who love Brunow's line.
"I think it's really important for women to feel confident in what they're purchasing and confident in wearing it. It's definitely a nice change to have something that holds you correctly without having you feel it's digging in," power lifter Annie-Lori Thompson said.
It's no surprise Brunow's seeing success launching a new business either. Yelp recently released a
showing Omaha one of the top three cities for positive economic opportunities.
Brunow was even nominated and awarded the Midlands Business Journal's "40 Under 40 Award."
The H2W Apparel line can be purchased at Karma Yoga in Omaha or
.
H2W Apparel will also have a pop up shop set up Wednesday at Bluffs salon Hello Gorgeous.
Brunow is also holding a "Find Your Fit" event Friday, October 27 from 5:30-7:30 p.m. at Body Basics Fitness Equipment. Not only will you be able to try the bras and athletic wear on, but yoga will also be taught and gym equipment can be purchased.