AG Mike Hilgers participates in 'Inspector General' debate at UNL Law
The Attorney General released opinion; calling the role of Inspector General unconstitutional.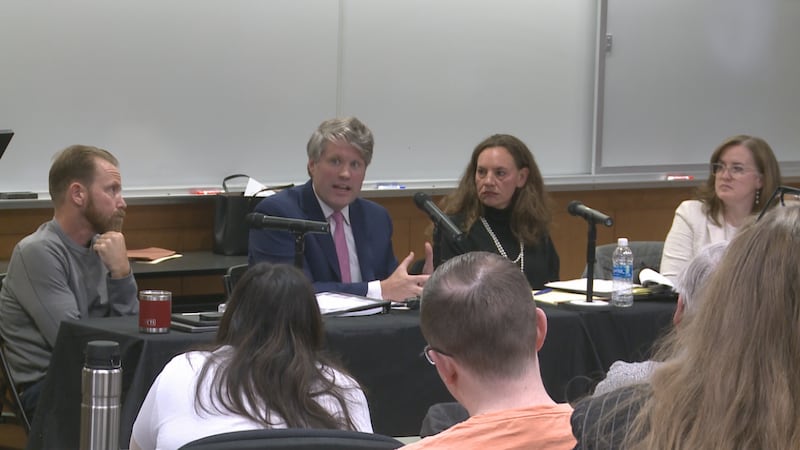 Published: Nov. 20, 2023 at 6:05 PM CST
|
Updated: Nov. 20, 2023 at 6:23 PM CST
LINCOLN, Neb. (KOLN) - Attorney General Mike Hilgers joined Senator Danielle Conrad, Inspector of Child Welfare, Jen Carter, as well as UNL Law Professor Anthony Schutz on a debate panel at the UNL School of Law.
Back in August, the attorney general released a public opinion stating that the role of the inspector general and its statutes are unconstitutional.
AG Hilgers clarified, on Monday, that the concern from the attorney general's office doesn't lie in the role itself. The role of the IG is to provide oversight to the corrections and child welfare agencies. Hilgers said the issue he has is with the power and access they have. He said it causes a conflict within the legislative branch.
"The question we posed had nothing to do with the policy," AG Mike Hilgers explained. " It wasn't about the ultimate goal but the means-- the means by which the powers the inspector generals were given and are those powers constitutional."
The attorney general reasoned that even in his time serving in the legislature as House Speaker, he was not given the legal ability to access information without going through a due process of issuing a subpoena.
However, Hilgers claims the Inspector General has unlimited, direct access to information from agencies without having to retrieve legislative sign-offs.
The access to information was just one of the powers Hilgers found to be unconstitutional.
"She (Inspector General Jen Carter) can go in and basically co-op law enforcement investigations -- a quintessential executive function, " AG Hilgers said.
Inspector General of Child Welfare, Jennifer Carter rejected claims that an Inspector General would ever do something of that nature. She said it would not be possible to do so under specific statutes.
"We never co-opted a criminal investigation," Carter said. "We just ask for an autopsy to understand if it's a medical death and whether we have jurisdiction or not."
Moving forward, AG Hilgers said the legislature could choose to file a lawsuit. But he proposes a change in the means by which the information is attained. He suggested avenues like 'politically accountable actors', senators and subpoenas that have gone through due process; to allow other branches to weigh in.
IG Carter said changes like the ones suggested or having performance audits could defeat the purpose of an impartial and independent investigation.
Right now the inspector general said she is receiving limited information from the Department of Health. She said it's making it difficult for her to do her job; checking if the agency followed all rules and regulations in a given matter.
Sen. Danielle Conrad weighed in on the issue and called the actions of the DOH disturbing.
"It is shocking to not have state departments not comply with state law and that's exactly what the attorney general did by giving them permission with his public opinion."
Click here to subscribe to our 10/11 NOW daily digest and breaking news alerts delivered straight to your email inbox.
Copyright 2023 KOLN. All rights reserved.