Trey Alexander scores 23 and narrowly misses triple-double in No. 8 Creighton's 92-84 win over Iowa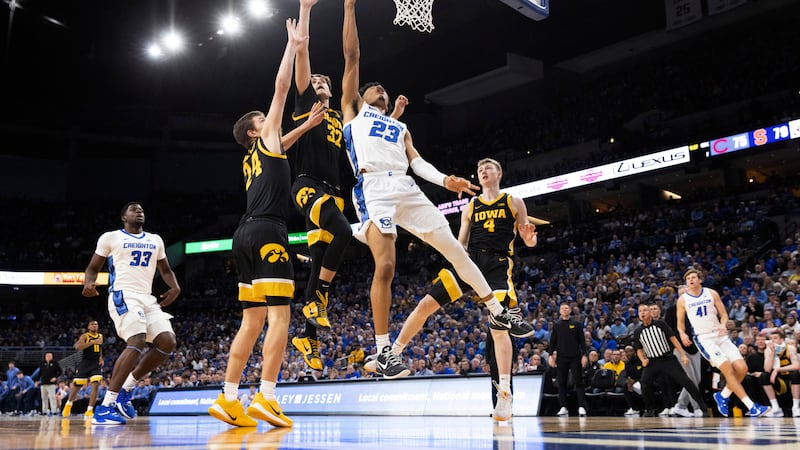 Published: Nov. 14, 2023 at 11:50 PM CST
OMAHA, Neb. (AP) — Trey Alexander narrowly missed a triple-double with 23 points, 11 rebounds and nine assists, and eighth-ranked Creighton put on a shooting exhibition coming out of halftime before holding off Iowa 92-84 on Tuesday night.
Creighton (3-0) made 15 of its first 17 shots to start the second half as the Bluejays turned a tie into a 17-point lead with nine minutes left. They were still up 10 in the last three minutes before Tony Perkins' 3-pointer and Patrick McCaffery's dunk cut it to 89-84.
Baylor Scheierman scored 17 points for Creighton. Francisco Farabello added 14, Ryan Kalkbrenner had 13 and Fredrick King 12.
Iowa (2-1) got 24 points from Ben Krikke, 16 from Perkins, 13 from McCaffery and 11 from Patrick Sandfort.
The Bluejays rolled off eight straight points early in the second half to go up 53-45. Mason Miller passed up a shot underneath the basket and whizzed a pass to the corner, where Scheierman was waiting to swish a 3.
Scheierman caught the ball on the block on the Bluejays' next possession and kicked the ball to Alexander on the wing for another 3. After another Iowa miss, Alexander threw a long pass to Kalkbrenner, who finished a fast break ahead of a trailing Krikke.
The Bluejays picked up where they left off after an Iowa timeout, with Miller and Isaac Traudt making 3s and Kalkbrenner dunking to wrap up a 16-4 run that pushed the lead to 61-49. A couple of minutes later, Alexander grabbed a rebound and drove the length of the floor to dunk over Perkins and set off the loudest roar of the night at the sold-out CHI Health Center.
BIG PICTURE
Iowa: The Hawkeyes have a promising group of newcomers led by Krikke, a first-team All-Missouri Valley Conference pick for Valparaiso last season. He and three other newcomers accounted for 42 points.
Creighton: The Bluejays entered with 3-pointers accounting for 46.4% of their offense, the third-highest rate in the nation, and the game illustrated their reliance on the long ball. Creighton went just 5 of 18 from deep in the first half, then connected on 4 of 5 while building a double-digit lead in the second.
GAVITT TIPOFF GAMES
Creighton's win gave the Big East a 3-2 lead in the Gavitt Tipoff Games. There are three more games this week in the annual Big Ten vs. Big East series. The Big Ten won six of the eight matchups last season.
UP NEXT
Iowa: Hosts Arkansas State on Friday.
Creighton: Hosts Texas Southern on Saturday.
Copyright 2023 WOWT. All rights reserved.