Stevens kicks three field goals, and Iowa's defense quiets Rutgers in 22-0 win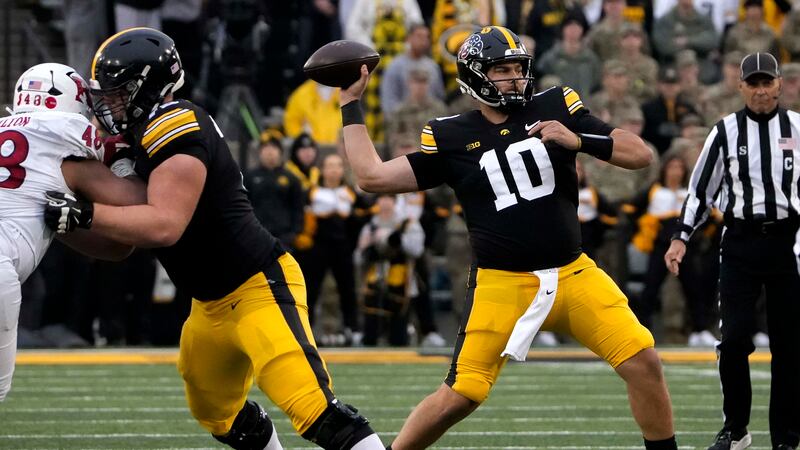 Published: Nov. 11, 2023 at 6:15 PM CST
IOWA CITY, Iowa (AP) — Drew Stevens kicked three field goals, and Iowa added two fourth-quarter touchdowns on the way to a 22-0 win on Saturday.
Iowa (8-2, 5-2 Big Ten) held Rutgers (6-4, 3-4) to just 127 yards for its first shutout of the season. The Hawkeyes shut down Kyle Monangai, the Big Ten's leading rusher at 100.3 yards per game, holding him to just 39 yards on 13 carries.
The Hawkeyes came into the game ranked 130th in the nation in total offense, but put up a season-high 402 yards and had almost a 17-minute edge in time of possession.
Stevens kicked a 32-yard field goal in the second quarter and a 43-yarder in the third. He added a 24-yard field goal in the fourth quarter.
Jaziun Patterson had a 4-yard touchdown run early in the fourth quarter to put Iowa up 12-0, then quarterback Deacon Hill threw a 10-yard touchdown pass to Kaleb Brown with 4:39 left to close the scoring.
Hill, who moved into the starting lineup after Cade McNamara suffered a season-ending knee injury in the fifth game of the season, had his best game of the season, completing 20 of 31 passes for a career-high 223 yards. He completed passes to seven different receivers, including a 54-yarder to tight end Zach Ortwerth, his longest completion of the day, that set up Stevens' second field goal.
BIG PICTURE
Rutgers: The Scarlet Knights couldn't find any sort of rhythm against Iowa's defense. Rutgers came into the game ranked 34th nationally in rushing offense, but had just 34 yards on 23 carries. Gavin Wimsatt threw for just 93 yards, completing 7 of 18 passes.
Iowa: The Hawkeyes are closing in on the Big Ten West Division title, and could move back into the national rankings this week, despite having one of the nation's worst offenses. They have been winning all season with defense and special teams, and this game was no different. The offensive life, though, is a good sign heading into the closing two weeks of the regular season.
UP NEXT
Rutgers: At Penn State next Saturday.
Iowa: Hosts Illinois next Saturday.
Copyright 2023 WOWT. All rights reserved.