Nebraska Attorney General suing pool business after 6 News investigation
AG's Office alleges Premier Pools and Spas engaged in deceptive business practices and created dangerous properties when it abandoned unfinished projects.
Published: Nov. 7, 2023 at 12:26 PM CST
LINCOLN, Neb. (WOWT) - The Nebraska Attorney General's office announced Tuesday that the state is suing Premier Pools and Spas, a builder that had been the subject of a 6 News investigation just a few weeks ago.
"The Attorney General's Office is seeking comprehensive redress, including restitution for affected customers, civil penalities, revocation of licenses, injunctive relief, and other equitable measures to hold Premier Pools accountable for its unlawful behavior and prevent future harm," according to the news release from AG Mike Hilgers' office.
6 On Your Side investigation
Area homeowners say Premier Pools and Spas required contract that forced tens of thousands of dollars to be paid upfront and prevented negative online reviews.
One customer told 6 News that Premier Pool and Spas has taken too long to fulfill her dream after she already paid them $75,000 to do so.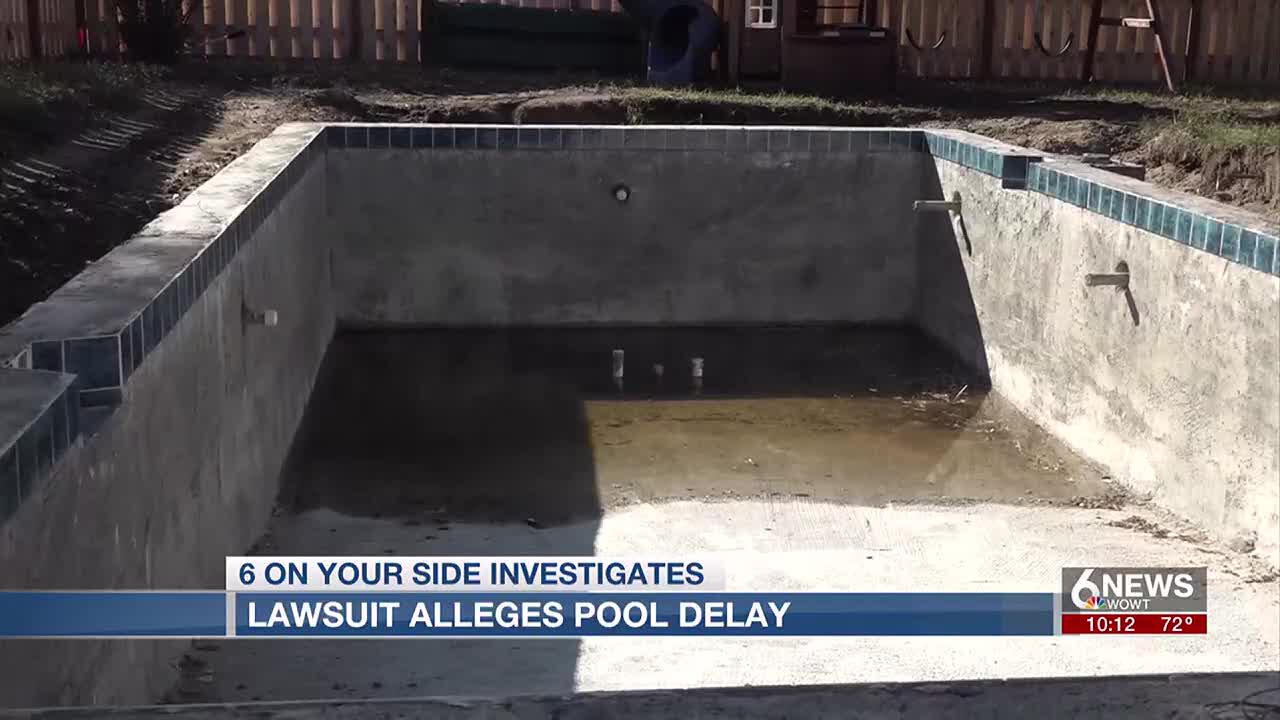 The lawsuit, filed Tuesday against Stanger Enterprises LLC in Lancaster County court, alleges that Premier Pools violated the Consumer Protection Act, the Uniform Deceptive Trade Practices Act, and the Consumer Review Fairness Act.
Specificially, the lawsuit accuses Premier Pools of engaging in "troubling practices," including deceptive payment schemes, misleading marketing and deceptive advertising, unsafe neglect, refund refusal, and gagging customers.
The AG's office says the company collected advanced payments, then funneled the money to other projects; that it evaded customers in need of refunds in order to pay for the work to be completed by other companies — or to make their properties safe for their families and pets; and retaliated against customers who complained.
"Premier Pools has extracted large sums of money by deceiving Nebraska homeowners and sought to unlawfully stifle consumer complaints," the news release from the AG's office states. "The company's brazen patter of deceptive and unfair business practices has left Nebraska homeowners with dangerous, ugly unfinished pits in their yards and without the refund or return of the significant sums paid to Premier Pools."
Premier Pools told 6 News in an email Tuesday that they won't comment on pending litigation. The company sent a statement in response to a 6 On Your Side investigation a few weeks ago blaming the unfinished work on uncontrollable factors like weather and labor shortages as well as subcontractor issues.
—
Reporter Mike McKnight contributed to this report.
Copyright 2023 WOWT. All rights reserved.