Huskers Quick Hits: Rhule not overlooking Michigan State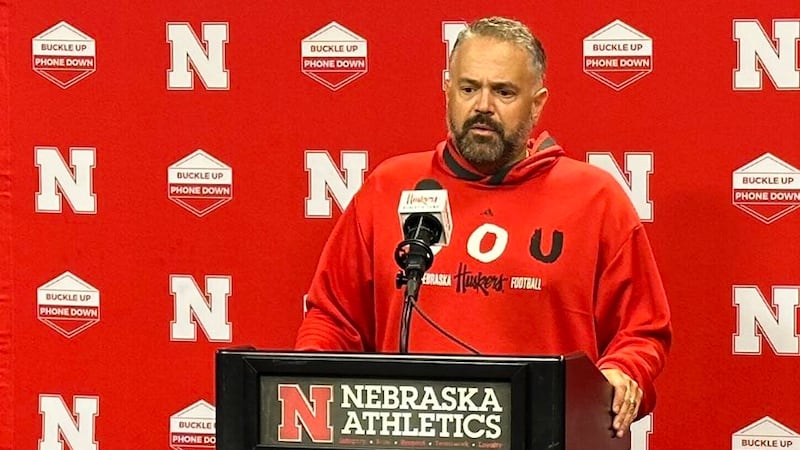 Published: Oct. 30, 2023 at 1:13 PM CDT
LINCOLN, Neb. (WOWT) - Nebraska head coach Matt Rhule addressed the media Monday morning ahead of the Huskers game at Michigan State.
1. Managing expectations
Despite Michigan State's six-game losing streak and interim head coach, Rhule isn't looking past the Spartans. Rhule says he goes into every game expecting it to come down to the final play.
2. Have to win the turnover battle
Ahead of the Huskers game against Purdue, Rhule challenged his offensive staff to get 24 points, 40 percent conversion rate on third down, and to win the turnover battle. Nebraska exceeded two of the three categories, losing the turnover battle with five fumbles four of which were recovered by Purdue. The Huskers are now last in the nation in fumbles and fumbles lost. Rhule took full responsibility for the turnovers, saying that the fumbles are something that falls on him.
3. Buford will be a game-time decision
Veteran safety Marques Buford will be a game-time decision come Saturday. Buford is still recovering from a knee injury suffered in the Wisconsin game last year. Before the injury, Buford started the first 11 games last season and recorded 59 tackles, two interceptions, and a forced fumble.
--
Nebraska is set to kick off in East Lansing at 11 a.m. CDT Saturday. The game will be televised on Fox Sports 1 (Cox 78, DirecTV 219).
Copyright 2023 WOWT. All rights reserved.