Douglas County health officials using vaccine packets to prevent wildlife rabies
If found, the health department asks you to leave the rabies packets alone and notes that they're not harmful to pets.
Published: Oct. 30, 2023 at 12:25 PM CDT
|
Updated: Oct. 30, 2023 at 3:58 PM CDT
OMAHA, Neb. (WOWT) - The Douglas County Health Department and several local and federal agencies are working to prevent the spread of wildlife rabies with an oral vaccination program.
Earlier this month, a stray kitten had been infected with and died from a rare rabies variant that is generally not found west of the Appalachian Mountains and is new to Nebraska.
"Rabies is nearly always fatal, so we are taking all of the proper steps to make sure it doesn't spread or get established here in Douglas County," said Dr. Lindsay Huse, Douglas County Health Director.
Dr. Huse said during an update Monday afternoon that the CDC began enhanced surveillance testing on Oct. 16 and has tested 130 animals to date with no additional confirmed cases of the raccoon variant detected so far. That testing is likely to continue through at least December, but could continue into February.
Meanwhile, on Oct. 23, the USDA began its campaign to trap, vaccinate, and release animals in an effort to curb wildlife rabies. So far, 559 raccoons, 23 skunks, three cats and one red fox have been vaccinated, officials reported Monday.
In an effort to create herd immunity to rabies variant, the USDA's Fish and Wildlife Services branch will begin distributing about 18,000 oral rabies vaccine (ORV) baits for raccoons across much of Omaha this week, likely starting Wednesday.
The baits will be distributed by DCHD and USDA personnel across a 62-square-mile area, from Interstate 680 east to the Missouri River and south to the Douglas/Sarpy County line, which is also Harrison Street. The previous area, outlined in red below, had been centered on downtown and midtown Omaha, extending up through Benson and portions of north Omaha.
The health department says about 18,000 vaccines will be distributed between Wednesday and Nov. 15, although most efforts will be done by Saturday, Nov. 4. Their goal is to put it in landscaping or along hedges so they are fairly hidden.
DCHD says this is the first time ORV baits will be used in Nebraska. The vaccine distribution program aims to prevent the variant from establishing itself among the metro's wildlife.
"It's important to note that if we cannot contain the spread of the raccoon rabies variant, it is estimated that it will cost tens of millions of dollars in human exposures over the next five years," the county health department's Justin Frederick said during Monday's news conference.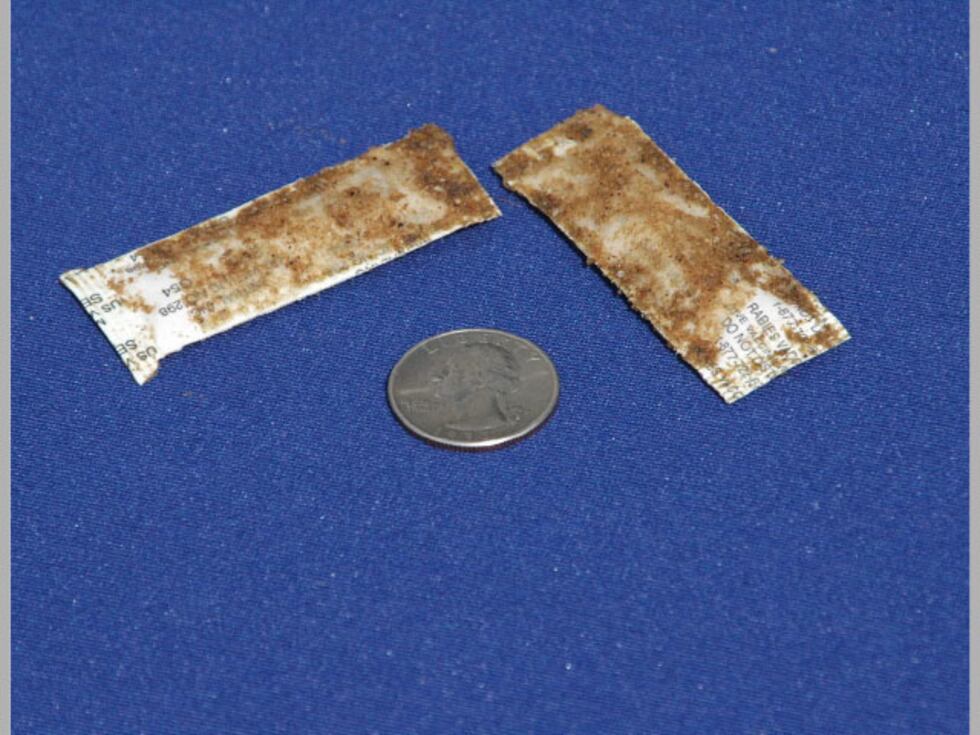 The ORV baits are coated with a fishmeal attractant and packaged in a sachet. The smell attracts wild animals, who eat the baits and are then vaccinated against rabies. DCHD says the baits are safe for many animals, including domestic dogs and cats. Neither humans nor pets can contract rabies from the baits; if found, the health department asks you to leave it be.
There is no harm in touching undamaged baits. Eating the baits likely won't harm your pet, although consuming several of them could result in an upset stomach. A warning label on each bait advises not to touch them and contains a rabies information line phone number.
"I do want to stress that the vaccine is safe for your pet. Should they come into contact with it, it is OK," Frederick said Monday. "The oral vaccine has been tested on over 60 species of animals including overdose studies. It is very stress on pets, I really want to stress that. However, if your dog does find one we ask that you let your dog eat it. There have been multiple accounts where owners tried to remove the packet from the dog's mouth and the results ended in a bite."
The health department said to avoid picking up the packets and to leave them alone. If you find one where children or a pet can find it, pick it up with a rubber glove or plastic bag or paper towel — and then wash your hands.
If you come into contact with an open packet, immediately wash hands and if you or pet has adverse reaction, call number on the packet.
Watch Monday's news conference
More information is available on Douglas County's website.
—
Managing Editor Kevin Westhues and Digital Director Gina Dvorak contributed to this report.
Copyright 2023 WOWT. All rights reserved.