EXPLAINER: How to protect your skin, eyes during Halloween
Published: Oct. 24, 2023 at 7:10 PM CDT
OMAHA, Neb. (WOWT) - Health experts in the metro are sharing some important skin and eye safety alerts for families picking out and planning their Halloween costumes.
Vibrant colors on the face and eyes can make your character come to life, but Nebraska dermatologists and optometrists say you should be mindful of which types of products you are using.
PROTECTING YOUR SKIN
Lyndsey Degenhardt, a Dermatology Physician Assistant at Dermatology Specialists of Omaha's new west clinic in Elkhorn, recommends you patch-test face paint or makeup 24 to 48 hours in advance of Halloween night.
The same goes for hair color spray or glitter spray, which are commonly found at costume shops, according to Degenhardt.
She also said to examine the ingredients of a product before you purchase it.
"Some of the face paints available do have harmful chemicals in them, such as lead, arsenic, and mercury. If those things come into contact with your skin or eyes it can be really irritating," said Degenhardt.
Instead, she said to look for products labeled "paraben and phthalate-free," as harsh chemicals can lead to irritation, rashes, redness, or hives.
"Essentially, they could develop contact dermatitis, where they're having a reaction with a contact allergen that's coming into contact with their skin. Oftentimes, we have to treat that with topical medication," said Degenhardt.
Degenhardt also recommends creating your own face paint using a non-fragranced body lotion and organic chalk. She advises crushing up non-toxic chalk, like Urban Infant brand chalk, and mixing it with lotion to create the paint.
When the frights of Halloween night are over, Degenhardt said to wash all face products off before bed.
"You can either apply Vaseline all over the paint, or you can wipe away immediately. You'd then use a gentle cleanser like a CeraVe or a Cetaphil and gently wash the skin afterward, pat dry. Or you can even use wipes. The wipes that we'd recommend -- Cetaphil has cleansing cloths, Cetaphil has makeup removing wipes, and baby wipes should also be safe," said Degenhardt.
Another recommendation to prevent skin irritation is to wash costumes with a gentle laundry detergent, without a heavy fragrance, before wearing them.
Also, if you or your child have a history of eczema, "it's really important to be mindful of the fabrics they're wearing. Wool, fleece, and even multiple layers can flare up their eczema. We want to be wearing a breathable costume, preferably out of cotton material," said Degenhardt.
COSTUME EXPERTS AGREE
Ibsen Costume Gallery offers a variety of costume makeup for purchase at their store on Hamilton Street in Omaha.
Store Manager Sarah Scheidies said they allow customers to patch-test most of their makeup before they buy it.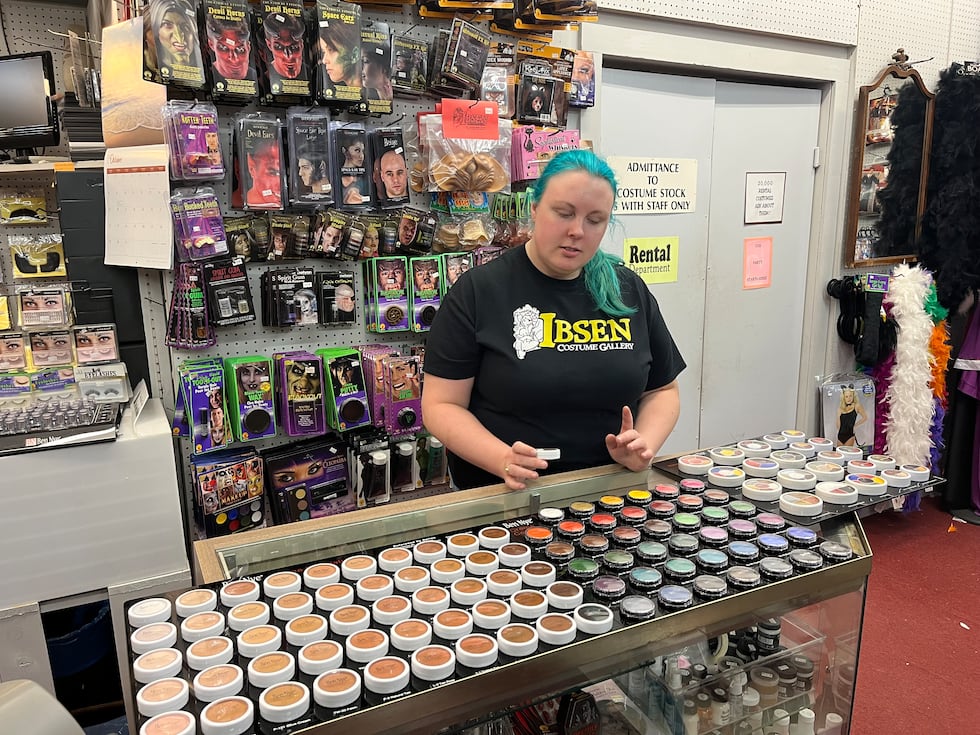 "We have a line of testers that we recommend for both matching skin tone and for testing to make sure that it's not going to make you sick and break out when you're putting it on your face," said Scheidies.
She also recommends people choose an outfit that is comfortable and keep in mind that some of the more elaborate costumes for rent or purchase can get heavy and hot.
"If they're indoors or in a place that's crowded with a lot of people, people tend to get overheated really fast. So, especially with the heavier weight costumes we recommend people drink plenty of water, take breaks, and step outside especially if it's cooler out there," Scheidies said.
There's one item you won't find on the shelves at Ibsen: costume eye contacts.
"Absolutely not. We do not carry them; we never will carry them. Apparently, it's a safety issue. If they're not well-made, they can be dangerous," said Scheidies.
PROTECTING YOUR EYES
Some costume contacts can be purchased online without a prescription, but these products can pose serious health risks, according to Dr. Christopher Wolfe, owner and optometrist at Exclusively Eyecare in Omaha.
"It's not going to be regulated, it's not going to be FDA-approved, and you're not going to have the backing of something that has been studied to be safe," Dr. Wolfe said.
If you want colored contacts, Dr. Wolfe said it is essential to get a proper fitting and prescription through an eye care professional.
"Having the wrong fit or the wrong material can lead to corneal abrasions, which can lead to corneal infections, and ultimately vision loss. That's what we're trying to prevent with saying look, do it if you want to do it, but do it under the guidance of a professional as opposed to 'hey this would be cool, I found it online,'" said Dr. Wolfe.
He said further that anytime you're wearing contacts there is a risk for infection and inflammation but said early treatment of eye issues will improve the chances of a better outcome.
"If you have any irritation, redness, light sensitivity, mucus, discharge, even just feel like 'my eyes don't feel like they should feel', take the lenses out, call your eye doctor right away," he said.
Copyright 2023 WOWT. All rights reserved.