Onewheel electric skateboards recalled after multiple reports of death, injury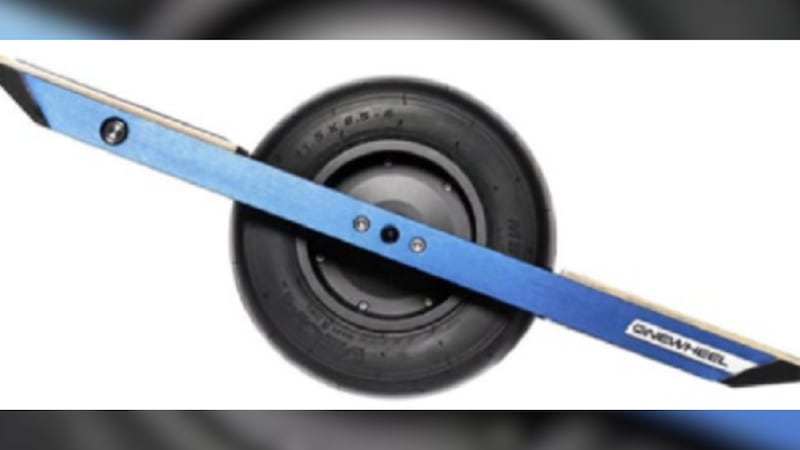 Published: Oct. 1, 2023 at 6:24 PM CDT
(Gray News) – Onewheel Self-Balancing Electric Skateboards are being recalled after dozens of reports have been made of crashes involving the products leading to traumatic injury and even death.
The distributor of the skateboards, Future Motion, Inc., and the U.S. Consumer Product Safety Commission (CPSC) have announced the recall of 300,000 of the products.
According to the CPSC, the skateboards can stop balancing the rider if the boards' weight limit is exceeded, which could lead to injury or death of the rider.
The CPSC said that dozens of reports of accidents involving the electric skateboards have been reported. Four deaths involving the products were reported between 2019 and 2021. Other reports contained injuries including traumatic brain injuries, concussions, paralysis, upper-body fractures, lower-body fractures and ligament damage.
The deaths stemming from skateboard-related accidents were the result of head trauma. According to the CPSC, the riders in three out of four of those reports were not wearing helmets.
Both Future Motion and the CPSC recommended wearing protective gear while riding on the skateboards.
The CPSC said anyone who owns one of the Original Onewheel or Onewheel+ model should visit Onewheel.com to arrange for a prorated refund in the form of a store credit upon disposal of the skateboard.
Other models which include Onewheel GT, Onewheel Pint X, Onewheel Pint, and Onewheel+ XR, should stop using them immediately, CPSC said. Owners of these models should then download or update the Onewheel app and use the app to update the firmware on their boards to include the Haptic Buzz alert functionality.
Haptic Buzz is a tactile and audible warning system that provides the rider of the skateboard with a buzzing sensation and sound when the board is nearing its limit, is low on battery, or is in an error state.
The firmware update will be available for all models in up to six weeks.
The recalled skateboards were sold online at the Onewheel website and other websites as well as at independent shops across the country from January 2014 through September 2023. These were sold at prices ranging from $1,050 to $2,200.
Copyright 2023 Gray Media Group, Inc. All rights reserved.