David's Evening Forecast - Hot and breezy evening, one more day of heat
Published: Oct. 1, 2023 at 5:16 PM CDT
OMAHA, Neb. (WOWT) - Another day of Summer-like heat across the area. Not quite record setting, at least in Omaha with a high so far of 92 degrees, just shy of the current record of 94. However, Lincoln did tie the record there with a high of 94 degrees. We'll stay very warm and breezy all evening long, south winds of 10 to 20mph will stick with us along with temperatures that stay in the 90s through 6pm or so. Temperatures likely are still around 80 degrees at 10pm, finally cooling into the 70s and 60s after Midnight.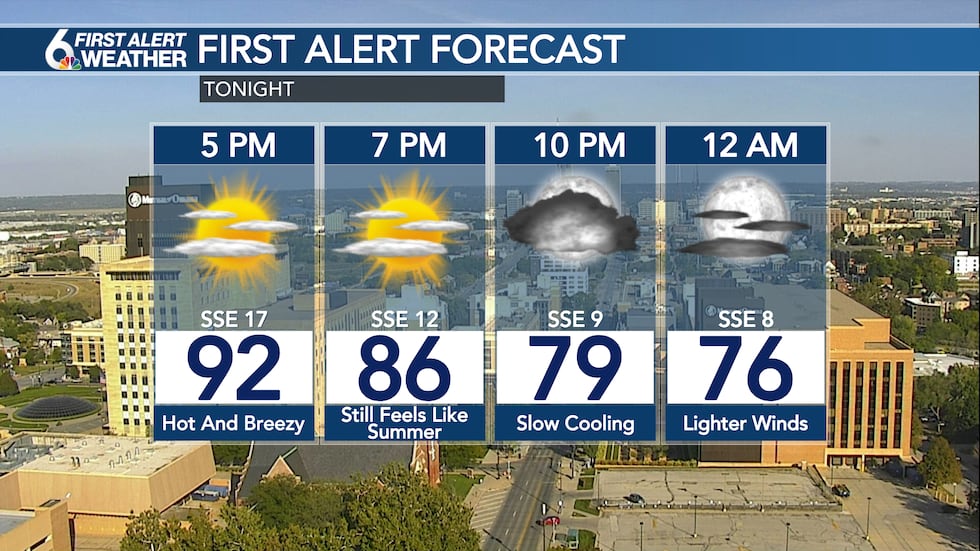 Monday morning will be comfortable with temperatures in the mid-60s, though those readings are about 15 degrees above average for the start of October. We will quickly warm once again with plenty of sunshine and a steady south breeze. Temperatures push back into the mid-80s by Noon, with afternoon highs once again reaching into the low 90s. We may be a degree or so cooler than today, but it will still very much feel like summer, just shy of record highs.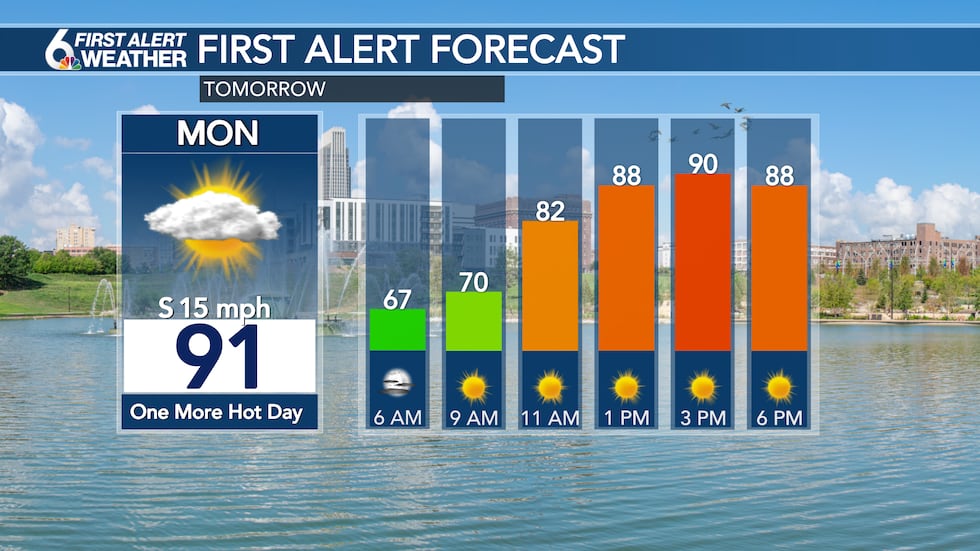 A cold front will enter the picture on Tuesday, finally breaking the streak of hot weather. That front will be pushing into the area by Midday, with a spotty shower or storm possible as early as Noon. However, rain chances will be highs in the late afternoon and evening as a line of showers and storms along that front swing through the area. Any storms will likely still be scattered in nature, so while rain chances are high, it is likely that not everyone will see rain.
The front will clear the area Tuesday night, with sunshine returning on Wednesday. A cool north breeze will push in behind the front finally pulling in some cooler, more fall-like air. Highs on Wednesday drop into the mid-70s, and we continue to cool through Friday and Saturday when highs may top out in the mid-60s. We'll have to watch Friday night for the first potential for some patchy frost of the season.
Copyright 2023 WOWT. All rights reserved.