Jay Leno offers support to sheriff's office after deputy dies in line of duty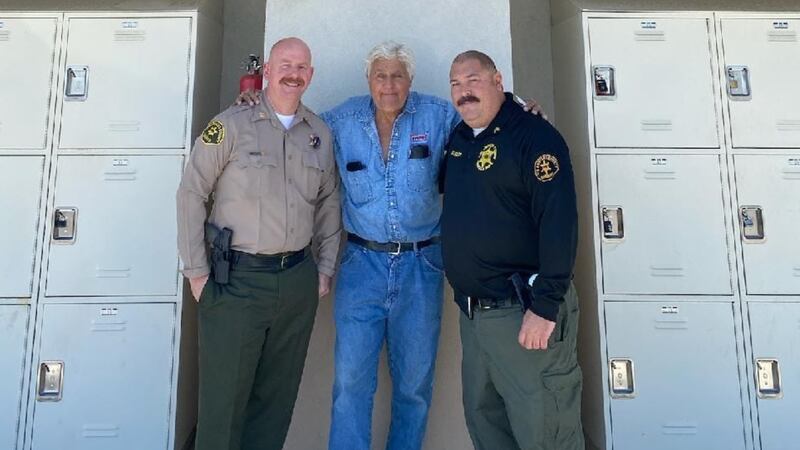 Published: Sep. 28, 2023 at 7:54 PM CDT
PALMDALE, Calif. (Gray News) – Former "Tonight Show" host Jay Leno made a surprise guest appearance at a sheriff's office in California last week.
Last Saturday, the Palmdale Sheriff's Office posted photos of its officers standing with Leno situated in between them.
"No fanfare, no cameras, no PR, just Jay Leno," the sheriff's department said in the post.
Leno had made a stop at the sheriff's department to offer support for the loss of one of its deputies.
On Sept. 16, the Palmdale Sheriff's Deputy Ryan Clinkunbroomer was ambushed and killed in his cruiser while on duty, according to the sheriff's office.
"Words cannot express the shock, sadness, and anger over this senseless loss of an exemplary deputy and an even better human being," the sheriff's office said in a Sept. 17 post. "Deputy Clinkunbroomer strived for excellence in everything he did … We are numb with grief and are grasping to come to terms with the fact that he has left a very big void within our station family."
Condolences and support were also offered to Clinkunbroomer's family from the sheriff's department.
Officials said Leno additionally made a financial contribution to Clinkunbroomer's family.
"Thank you for stopping by, sir! We appreciate your support," the sheriff's department said.
Copyright 2023 Gray Media Group, Inc. All rights reserved.