Hundreds of THC cartridges, 25 lbs of marijuana confiscated at home near Elkhorn school
Two arrested after Seward County traffic stop leads to raid on Omaha-metro home, where authorities say they also found THC edibles, psychedelic mushrooms, ammunition
Published: Sep. 29, 2023 at 2:57 PM CDT
ELKHORN, Neb. (WOWT) - A drug bust that started with a traffic stop in Seward County ended with a raid on a home right across the street from an Elkhorn elementary school.
A man and a woman were arrested after authorities following up on information obtained during a traffic stop reported finding marijuana, THC vaping cartridges and edibles, and psychedelic mushrooms at a house in Elkhorn.
Nicolas Phelps, 32, and Kassandra Slack, 31, were arrested after authorities served a search warrant at a home near 215th and Grover streets, near Blue Sage Elementary School, at about 6:30 p.m. Thursday.
Both suspects were in court on Friday, charged with three counts — possession with intent to deliver THC and a controlled substance within a school zone — and given $10,000 bond. Their preliminary hearings have been set for Nov. 1.
According to a release from the Douglas County Sheriff's Office, deputies in Seward County were conducting an investigation on a traffic stop on Interstate 80 near mile marker 381 that led to the identification of Phelps, who has been working on his degree in nursing, and Slack, who works at an area hospital, as suspects involved in selling and trafficking narcotics.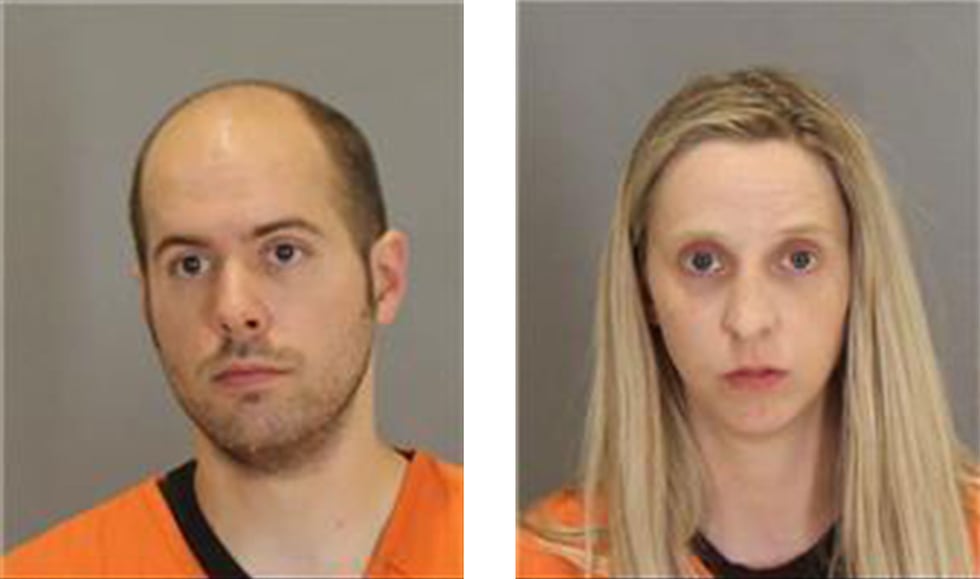 Court documents state that a K-9 officer prompted a search of the vehicle, which turned up 200 pounds of marijuana, five pounds of psilocybin, also known as psychedelic mushrooms, and 20 pounds of THC concentrate. The driver told authorities he had been directed to deliver the drugs to the couple's residence on 215th Street in Omaha, and a contact profile in his phone matched that address.
During the stop, the driver also received multiple phone calls associated with the address.
That information, along with DEA documentation that that Phelps had been previously investigated for marijuana distribution, prompted the DCSO Special Operations Group to raid the couple's home. There, authorities reported finding about 25 pounds of marijuana; 1,700 high-potency (88%) THC vaping cartridges; just over half a pound of psilocybin; some THC edibles; cash and a money counter; a digital scale, packaging materials, and a heat sealer.
Deputies reported finding several boxes of .45-caliber ammunition and large amounts of drugs in the home — and children were present at the time of the bust.
Some residents in the neighborhood told 6 News that they thought something was going on here, saying the blinds were always closed and people were moving in and out of the home.
"Douglas County residents are reminded to be alert for, and report, suspicious activity," the DCSO release states. "In narcotics cases such as this incident, it is common to witness a consistent pattern of high volume vehicle traffic for short duration periods of time. Law enforcement does its best work through timely, accurate information provided from the public via calls to 911."
Nick Kiger and his family have lived in the neighborhood for two months and said they didn't expect to see this kind of activity so close to their home.
"I mean its just a scary thought — like this could happen right next door or a few houses up," he said. "So much crazy stuff was going on last night — undercover cops and everything. I didn't know what was going on."
He said it got real when law enforcement moved in.
"On our way to Casey's, we saw the seven cop cars or whatever — undercover — flying down the street. Then got over here to this street, and we couldn't even go through; we had to go around it."
—
Have information? Anyone with additional information about this particular incident is asked to contact the DCSO tip line at 402-444-6000.
Copyright 2023 WOWT. All rights reserved.