Work begins on Omaha streetcar project
Published: Sep. 20, 2023 at 5:35 PM CDT
OMAHA, Neb. (WOWT) - Wednesday, crews started to work along the planned streetcar route. For the next couple of months, they're manually mapping out the utility lines to make sure they know where everything is before construction starts.
It's expected crews will drill 600 holes that are 12 inches wide by 5 feet deep.
Less than half a day after drilling the holes Wednesday, they started to fill them.
That's because they got the information they needed.
"Conflicts. We're avoiding conflicts," said city engineer, Austin Rowser. "When you're talking about electricity and gas you want to know exactly where those are so you're not having safety exposure to your crews and other people working."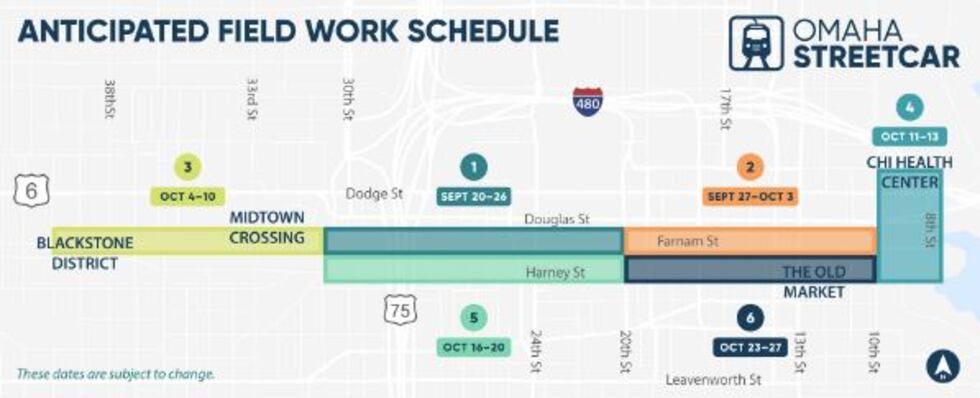 Rowser said they need to do this because the drawings of some utility lines are only accurate to three feet.
"Three feet is a lot in construction sometimes and so to know exactly where it is we want to know where those utilities are," he said. "A lot of times when you do this activity you do find things you didn't know were there."
Crews started with segment one, which runs down Farnam from 20th Street to Midtown. The whole project is split up into six segments and is expected to go to the end of October.
Because of this work, drivers can expect some lane closures but no full road closures.
There will also be limited street parking when and where they're working.
Crews are scheduled to move to segment two in one week, which is along Farnam from 20th to 10th Street.
Information collected during this process will move the design phase for the streetcar forward, with construction expected to start next spring.
Copyright 2023 WOWT. All rights reserved.