'It's very difficult': Twin fawns die after mother despite rescue efforts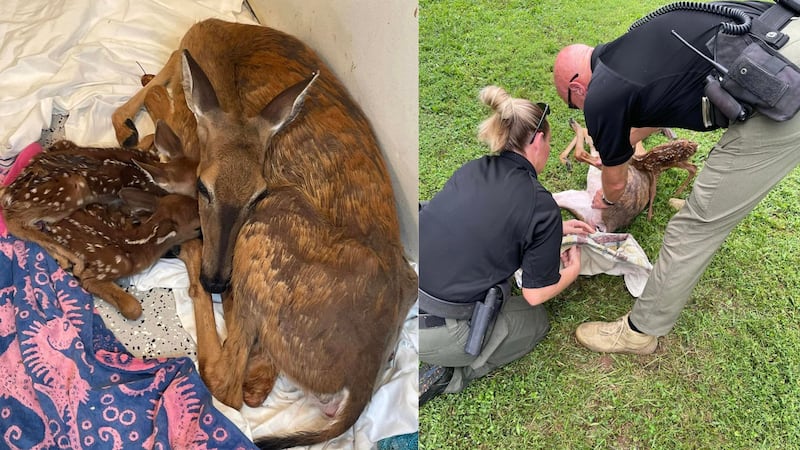 Published: Aug. 30, 2023 at 12:18 PM CDT
BOWLING GREEN, Ky. (WBKO/Gray News) – The twin fawns who were rescued last week by sheriff's deputies in Kentucky have died.
Sadly, after the fawns and their mother were taken in by wildlife rehabilitation center Wild4Life, all three died, despite the efforts of rescuers.
The doe and her babies were rescued by Warren County Sheriff's deputies on Aug. 22 after they received a report of a deer that had been lying down in the caller's backyard for two days.
Responding deputies quickly realized the deer was in labor and distress, and they assisted with the delivery of twin fawns.
All three deer were taken to their temporary new home at the rehabilitation facility Wild4Life in hopes they could be saved.
Lori Dawson, founder of Wild4Life, has been working to rescue and rehabilitate wildlife across south-central Kentucky for the last eight years. In that time, she has brought thousands of animals into her care and is no stranger to the difficult days of rehabilitation.
"It's very difficult, and what people don't realize is that we normally don't get in healthy babies," Dawson said. "The babies that we get in, moms have abandoned them, so they've been without food or milk for a while, or they've been hit. They don't come in good situations."
When Dawson received the call about the doe in distress, she did everything in her power to care for the already dehydrated animal.
Unfortunately, the mother died the same day that she gave birth, and the twins, named Jack and Jill, followed in the coming days.
"It was one of the hottest days we had [when she gave birth], the heat index was in the hundreds, and the gentleman who made the call said that the deer had been in his yard for two days," Dawson said.
She said the fawns were very small, with one being under four pounds and one being just over four pounds. Typically, newborn fawns are five to six pounds.
"They were extremely tiny," Dawson said.
Dawson explained that about a third of the animals that come into her care unfortunately pass away. Despite this, she says that the success stories make her efforts worthwhile.
"It's hard to watch death, but when you release an animal and you see like, 'Hey, my work and my time did go well. Look, they're free, they're running around and they're living a happy life because I rehabbed them,'" Dawson said.
You can donate to Wild4Life here. The nonprofit runs solely on donations.
Copyright 2023 WBKO via Gray Media Group, Inc. All rights reserved.