Nebraska Legislature not likely to debate trans youth care bill package before Friday
Lawmakers voted to attach 12-week abortion ban amendment to LB574 on Tuesday night.
Published: May. 17, 2023 at 6:09 PM CDT
LINCOLN, Neb. (WOWT) - Friday is the soonest that the Unicameral will be able to vote on LB574 — and the attached abortion amendment AM1658 — but it hasn't been scheduled yet.
Speaker John Arch's office confirmed that information on Wednesday following hours of debate the night before over the bill to ban gender-affirming care for minors. Legislative rules say there must be a day between second- and third-round votes, so the earliest the Legislature could have debated the issue again was Thursday.
If approved — and it seems apparent the conservatives have the votes to do that — the bill would take effect as soon as it's signed by Nebraska Gov. Jim Pillen because it contains an emergency clause. Once that happens, abortions would be prohibited after 12 weeks from the last period; current Nebraska law allows abortions up to 20 weeks.
TUESDAY IN THE UNICAM
After several hours of debate, Nebraska state senators voted Tuesday night to attach AM1658 to LB574 before bouncing the bill back to final-round voting.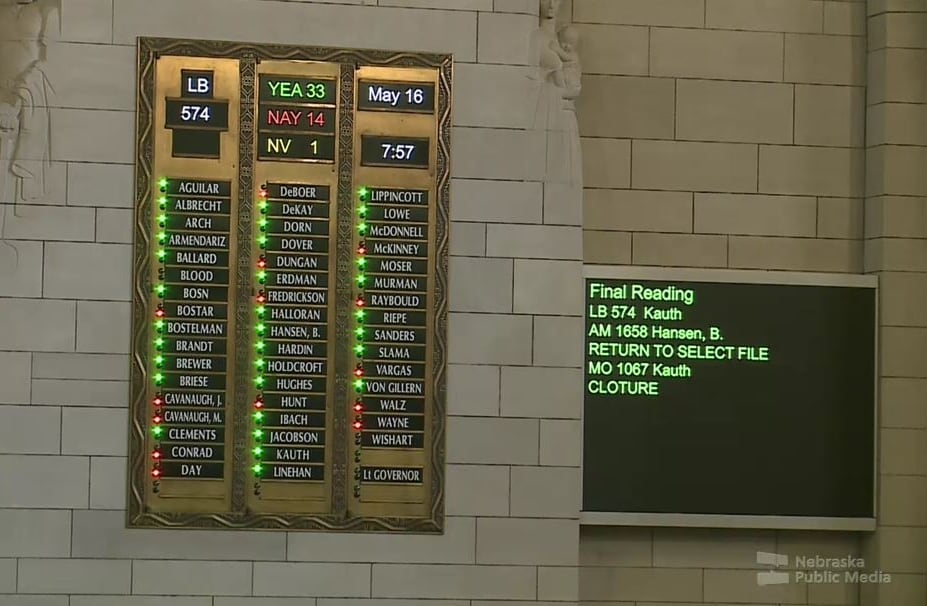 People opposed to debate over the ban on gender-affirming care for youth had planned to gather Tuesday night, but the debate got going much earlier than expected.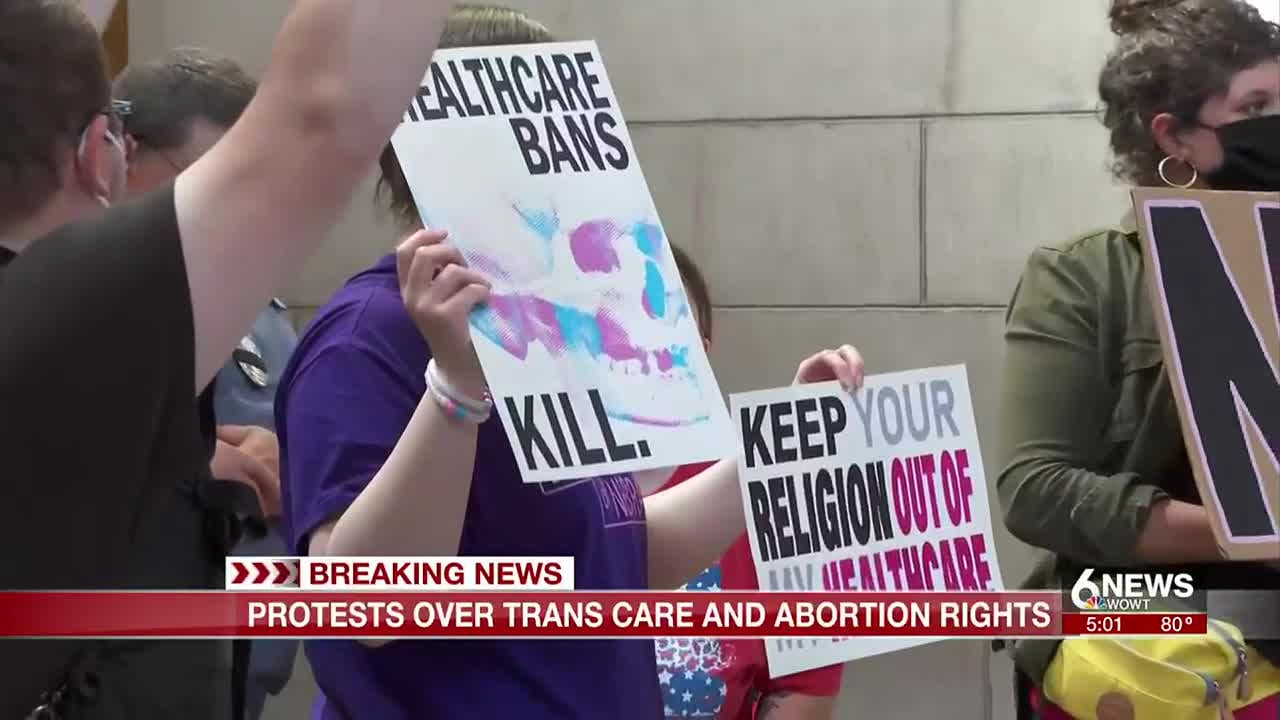 Wednesday's update comes on the heels of hours of loud protests at the state capitol Tuesday night, with emotions running high on both sides. Several state senators complained about the loud crowd in the rotunda that could be heard through the glass doors, saying it made them feel unsafe.
"Last night from this floor, members were quoting and acknowledging chants of protestors in the rotunda. That incites more bad behavior," said State Sen. Mike Moser of Columbus. "I don't think that's good for the process. I don't think that's being respectful."
After several hours of debate, Nebraska state senators voted Tuesday night to attach AM1658 to LB574 before bouncing the bill back to final-round voting. Much of the time Tuesday was spent debating the rules, which several senators said had been a moving target throughout the session.
State Sen. Machaela Cavanaugh of Omaha has been protesting what she says are bills that would take rights and health care decisions away from Nebraskans by filibustering every bill since the first week of March.
While State Sen. Merv Riepe of Omaha killed the six-week ban for being too harsh, a 12-week ban, in his view, is a compromise — with the assurance criminal penalties doctors could face are addressed next session.
But on Wednesday, after a contentious debate the night before, Cavanaugh said to expect her same tactics next session.
"Trans children deserve our love. Our support. They are worth fighting for. And I am going to fight for them. Every minute of every day I am in this chamber I will fight for them," she said on the floor Wednesday.
One supporter of the bills told Cavanaugh her antics on the Unicameral floor were the reason why they were able to resurrect the very bill she wanted to kill — that it was about personality rather than policy.
"LB574 is alive today because of Sen. Machaela Cavanaugh. She is the reason that bill is still alive," said State Sen. Julie Slama of Sterling. "The first two votes — that bill had 30 votes on the floor. But then Machaela Cavanaugh got up and ran her mouth — she was overjoyed that the national media was here to give her attention. So that gave us 33 votes. This bill is alive because of Machaela Cavanaugh."
State Sen. Justin Wayne of Omaha said the ego part is on both sides — neither can let the other win.
"Nobody actually won yesterday. We all lost. And I don't think people can understand this because the entire session and body comes down to two words for me: ego and selfishness," he said Wednesday.
Nonpartisan Nebraska raises ruling concern
Since the proposal to join two contentious topics into one bill, debate on the floor has been particularly heated. But much of Tuesday's debate — which delayed the vote for hours beyond the 120 minutes allotted for a bill's final round — centered around the rules, with some in the minority accusing Republicans in the Unicameral just keep changing the rules — rules that were set at the top of the session — and when something doesn't fit them, they change it again.
There were also several motions put forward during the debate, and even some challenges to some overruled by Lt. Gov. Joe Kelly. One of Kelly's decisions as Tuesday's cloture vote approached garnered criticism from Nonpartisan Nebraska. The nonprofit issued a statement on Wednesday saying it submitted a letter to Kelly, Speaker John Arch, the clerk of the Nebraska Legislature, and the chair of the Unicam's rules committee expressing "significant concerns" regarding the ruling, saying his actions raised "legitimate constitutional questions."
Copyright 2023 WOWT. All rights reserved.