Nebraska lawmakers expected to debate abortion amendment
Published: May. 9, 2023 at 5:19 PM CDT
LINCOLN, Neb. (WOWT) - We're getting a clearer idea on the details inside the new abortion ban amendment attached to a transgender care bill.
Opponents of the bill argue it's more like a 10-week ban.
Monday night, opponents' big question was 'Why was an abortion ban bill attached to a transgender rights bill at the last hour in the Nebraska legislature?'
While that's still being asked, senators are also looking more closely at what's inside the new abortion bill.
Two weeks ago, a six-week ban failed by one vote in the unicameral. This new bill was attached to another bill and is described as a 12-week abortion ban.
There's a key difference opponents point out - when doing the math, this new bill says gestational age is calculated from the first day of the last period, not post-fertilization. Meaning, in their view, the proposal is more like a 10-week abortion ban.
"The bottom line is whether we are talking 12 or 10 weeks, the fact remains that this is still a cruel and extreme abortion ban and Nebraskans will still be harmed by this legislation if it does pass," said Scout Richters with the ACLU of Nebraska."
Lawyers with the ACLU of Nebraska are exploring the possibility of a challenge regarding adding an abortion bill to a bill that would ban gender-affirming surgeries on minors.
But supporters of the abortion ban argue that rules are meant to be broken.
"I'm sick and tired of hearing about precedent," said Sen. Steve Erdman of Bayard. "Nothing is the precedence forever because that was something other than that when you did it the first time. So if we decide to do something different, we do something different. Irregardless of the precedence.
This new bill is labeled as the Preborn Child Protection Act.
In Nebraska, there were 2,360 abortions in 2021 - the latest available data from the state; 89% of those happened at 12 weeks or earlier.
Meanwhile, those who celebrated the last abortion defeat vow to continue the fight in the name of reproductive health care.
And while Sen. Merv Riepe, the one who killed the six-week ban and had proposed a 12-week ban of his own, says this 12-week ban has other differences besides when the pregnancy clock begins.
"It isn't what Sen. Riepe proposed," Scout Richters said. "It also doesn't include exceptions for fetal anomalies, when we know that around the 10-12 week mark is when people are getting the devastating news.
Sandy Danek with Nebraska Right to Life, while disappointed the six-week ban failed recently, says the new bill "would still save many Nebraska preborn children."
Debate is expected sometime this week.
UNICAMERAL UPDATE
Next week, Nebraska state senators will debate LB574, the bill to ban gender-affirming care for minors, along with the anti-abortion amendment attached to it.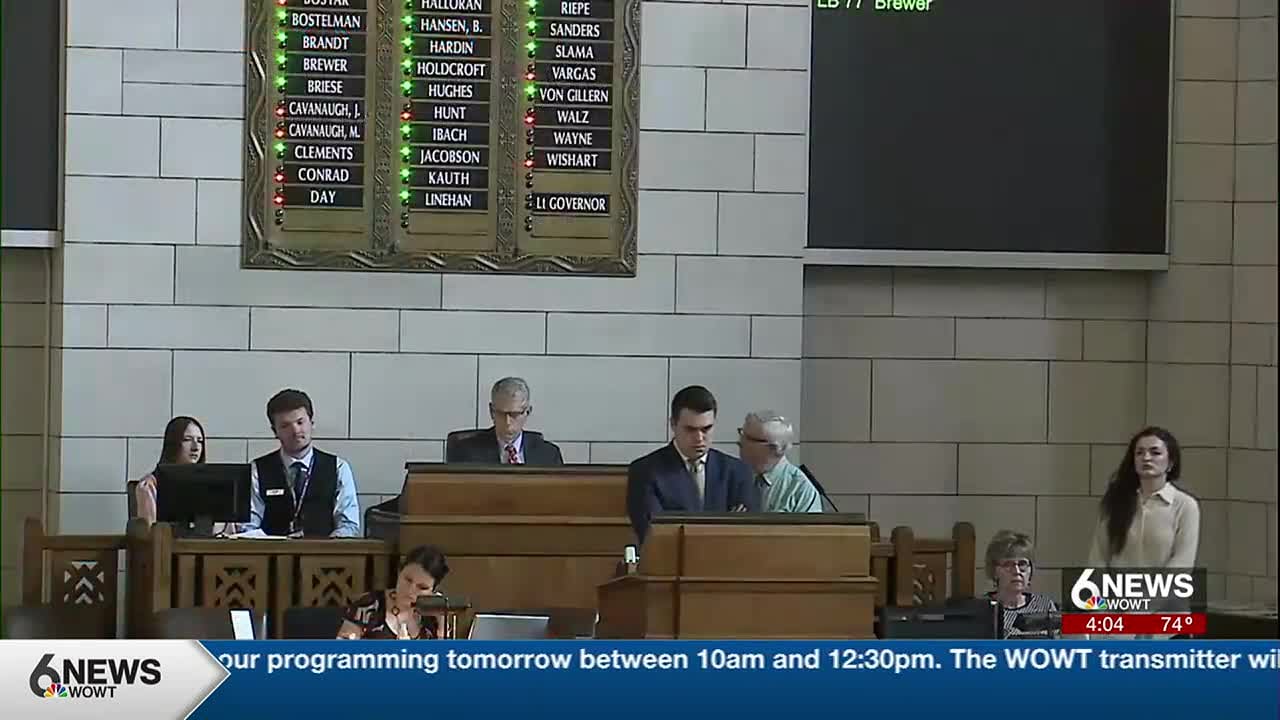 Copyright 2023 WOWT. All rights reserved.