Omaha organization seeks to build trauma-informed community
Experts say childhood adversity and stress can lead to long-term health risks
Published: Feb. 17, 2023 at 10:52 PM CST
OMAHA, Neb. (WOWT) - What if there were a study, a survey of 10 questions, to help better understand trauma from your young life and just how unhealthy it may be to your long-term health?
Trauma Matters Omaha wants you to know there is such a screener to determine Adverse Childhood Experiences scores, ACEs.
"The idea of the ACEs survey is to determine the level of challenges and trauma you had growing up and how that will impact your lifelong health."
Javier Castellote is the Trauma Informed Initiatives program manager for nonprofit Project Harmony, one of the organizations behind the Omaha Trauma Matters Initiative.
"The survey basically just brings awareness so you know you can find help and support in order to build the resilience you need to thrive," Castellote said.
ACEs fall into one of three categories: abuse, neglect or household dysfunction.
"Abuse, physical, emotional, sexual, neglect, emotional and physical neglect, and household dysfunction," Castellote explained. "So if someone in your family has substantial mental illness, or if there's substance abuse at home, or if your parents got divorced, and their separation, right, or if a member of your family has been incarcerated. All of those are stressors that impact how children develop."
The CDC says three out of four people have experienced one of the ACEs before age 18.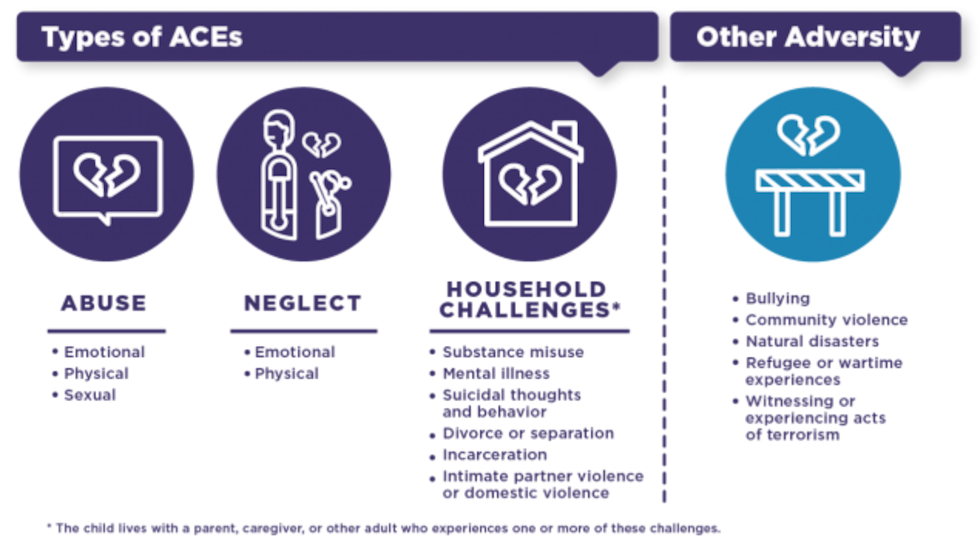 "There is a strong relation associated with the experiences you have in childhood, with long-term health," Castellote said. "One of those things is cardiovascular disease, which is one of the leading causes of death in the United States."
Working with others including trusted family members or professionals can help overcome the negative effects of a trauma-filled youth. Taking the simple 10-question study is a start.
"If you have scored four or more ACEs you are at significant risk for developing cardiovascular disease," Project Harmony senior director of communication at Project Harmony Angela Roeber said. "So we want everyone during (American Heart Month) to take a look at their own health and that's from the physical aspect as well as the emotional side of things, too."
"We might be looking at an individual who might have had a heart attack, and everyone says, 'well, he was so healthy, I don't understand,'" Roeber said. "And he may have lived a very healthy lifestyle from what we can see, but it's those events that may have occurred throughout his life that we are not aware of. It's that saying, we never want to go into a situation asking what is wrong with you, but more of, what has happened to you."
Castellote sees the Trauma Matters initiative to inform the public about the realities of trauma as critical to the health of the community as a whole, young and old.
"Trauma is very prevalent, and we all experience stress, right? So we can all connect with that feeling of difficulty, so understanding that and knowing that when you're struggling yourself, its ok to find help and support, that's the first step," he said.
Trauma Matters Omaha is a collaboration of individuals and organizations across six counties that offers education and awareness to help face and overcome ACEs and trauma.
As Javier said, to help "create a more hopeful approach" to life.
Omaha Trauma Matters provides training and resources through their website, including the Trauma Matters podcast. More resources are also available through the CDC.
Copyright 2023 WOWT. All rights reserved.