David's Morning Forecast - Cold and breezy with a few snow showers
Published: Jan. 28, 2023 at 7:38 AM CST
OMAHA, Neb. (WOWT) - Light snow moved through the area overnight, dropping around a half-inch of snow on the metro, a few spots potentially close to an inch on the north side of town. The snow already moving out by 6am, leaving cloudy and cold conditions. North winds of 10 to 20mph gusting to 30mph at times will draw in colder air throughout the day, meaning we have already seen our high temperature for the day.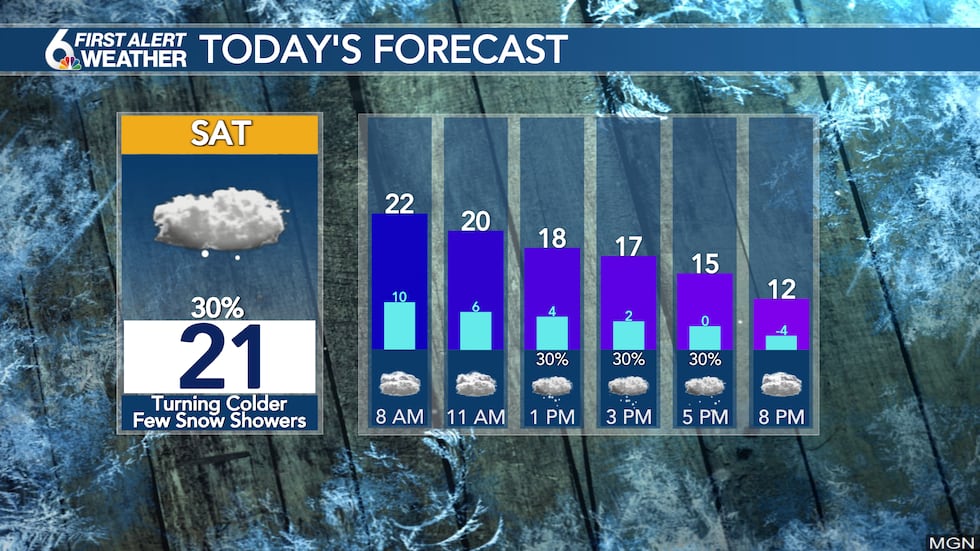 Temperatures will fall into the teens by the lunch hour, falling to around 16 degrees by 4pm in the metro. Even colder conditions to the north of town. With those strong north winds, we will see wind chills in the single digits all day long, with wind chills potentially falling below zero in the afternoon. There may be a few pockets of blowing snow as well, especially where the snow was a bit heavier north of Omaha. Overall, a very cold and unpleasant day to be outdoors.
The cold conditions stick around for Sunday. After starting off with temperatures near zero and wind chills of -10 to -20, cloudy skies and a stiff north wind will keep us from warming much. Highs only climb to around 10 degrees in Omaha, with wind chills near zero. A few light flurries could develop in the afternoon or evening, but little to no snow accumulation is expected at this time.
The frigid weather will continue into Monday, with morning lows near zero and highs only in the teens. We start to warm a bit on Tuesday with highs in the upper 20s, with a chance to thaw by Wednesday with highs in the mid-30s. Another brief shot of colder weather is likely on Thursday. By the end of the week, a more significant warm-up is looking likely! Highs may try to push into the 40s, and possibly 50s by the upcoming weekend.
Copyright 2022 WOWT. All rights reserved.