David's Evening Forecast - More clouds, staying mild Sunday
Published: Jan. 14, 2023 at 5:42 PM CST
OMAHA, Neb. (WOWT) - Filtered sunshine gave way to mainly cloudy skies this evening. Despite the clouds, a south breeze helped to keep temperatures in the low 40s around the metro. Skies will remain mostly cloudy but we will stay dry for the evening hours. Temperatures slowly cool through the 30s after sunset with a steady south wind at 10 to 20mph. Overnight lows slowly drop into the lower 30s, not bad for this time of year.
A cool start to Sunday, but morning temperatures will actually be well above average for the middle of January, a trend that will stick with us all day. South breezes at 10 to 20mph will help to slowly warm us into the 40s by the afternoon, with highs in the middle to upper 40s around the metro. A few spots in southeast Nebraska and southern Iowa could even reach 50 degrees despite the cloudy skies. While most of the day will be dry, by the evening there is a slight chance for an isolated shower or sprinkle, but it shouldn't have a major impact on the day.
Rain chances increase Sunday night into Monday morning, with on off and showers likely to start the day. Some showers may linger into the afternoon as well, especially north of I-80. While rainfall appears to generally stay on the light side, there will be wet conditions throughout the day that could impact any outdoor plans. Temperatures will still be mild in the morning, starting off in the 40s. However, colder air will move in during the afternoon, with the metro likely falling into the 30s by late in the day. This could mean a few of the showers actually end as a few snow flakes, but no accumulation or impacts are expected.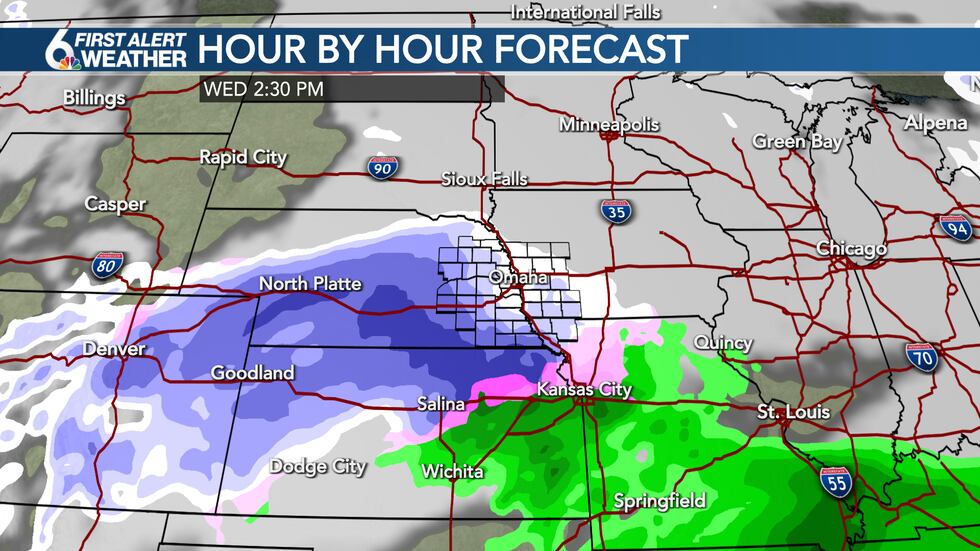 After a quiet Tuesday, another storm system enters the picture on Wednesday. This storm has the potential to have a more significant impact on the region with several inches of accumulating snow. Snow is most likely Wednesday afternoon into the overnight, ending early on Thursday. While the exact track of the system is still uncertain right now, areas near and south of I-80 stand a decent chance of seeing at least some snow. This system is still several days out and there is ample room for changes to stay tuned for forecast updates.
Copyright 2022 WOWT. All rights reserved.