New Nebraska anti-abortion bill seeks ban at six weeks
State Sen. Joni Albrecht bringing legislation forward again this session
Published: Jan. 11, 2023 at 12:35 PM CST
LINCOLN, Neb. (WOWT) - One week into the new legislative session, and many senators are picking up where they left off last year: Abortion is back on Nebraska's legislative agenda.
State Sen. Joni Albrecht of Thurston was joined by several Nebraska lawmakers in the capitol rotunda Wednesday morning for a news conference to announce a bill she is introducing in the 108th Legislature that would move Nebraska's abortion law from prohibiting after 20 weeks to 6 six weeks into the pregnancy.
Most women don't know they're pregnant at that stage. The American Pregnancy Association notes that "Weeks four through seven are when most women discover they are pregnant."
"A six-week abortion ban is an abortion ban," said State Sen. Megan Hunt of Omaha. "It effectively bans abortion for everyone. A lot of people don't even know they are pregnant until after six weeks."
If passed, it would be one of the most restrictive abortion laws for a state that hasn't outright banned the procedure.
"That decision belongs to women and their doctors," said State Sen. Danielle Conrad of Lincoln. "It does not belong to politicians."
NEW YEAR, NEW VOTE
Albrecht's trigger bill banning abortion in Nebraskas failed last year by two votes. Then-Gov. Pete Ricketts said he would call a special session if he knew the vote would pass, but that never happened.
6 News asked Albrecht whether she had the 33 votes to get her new legislation passed and prevent a filibuster. Democratic senators blocked a total ban that way last year.
"I believe I do," she said.
The difference this year: two votes.
With a new legislature, the Republican believes she has a better chance at getting the legislation passed.
"We have 85% of the babies who would be saved with this six-week ban," she said.
But abortion rights supporters say this new bill should be treated and rejected the same as last year's bill.
"The idea of a six-week bill is preposterous. Most people don't even know they're pregnant in the first six weeks," said Sen. George Dungan of Lincoln. "By the time you find out you're pregnant, this has the effect of a complete ban, which is what it is."
WHAT'S IN THE NEW BILL
The latest Nebraska abortion bill would ban the procedure once cardiac activity is detected in an embryo — often around six weeks into a pregnancy.
The new bill has no criminal penalties but does propose costing doctors their medical licenses if they perform the procedure past the six-week mark.
"The people of Nebraska are taking an heroic step in recognizing the science — that the unborn child is human who needs protection," Dr. Katrina Furth said.
The bill also allows for some medical emergency exceptions as well as exceptions for rape and incest; and specifies that the pregnancy has to be inside the uterus, which means such a law wouldn't interfere with in vitro fertilization.
"There is nothing in this bill that keeps me from providing necessary medical care to a pregnant woman or from terminating a pregnancy in the rare and tragic instance when the mother's life is at stake," said Dr. Robert Plambeck, an OB-GYN in Lincoln.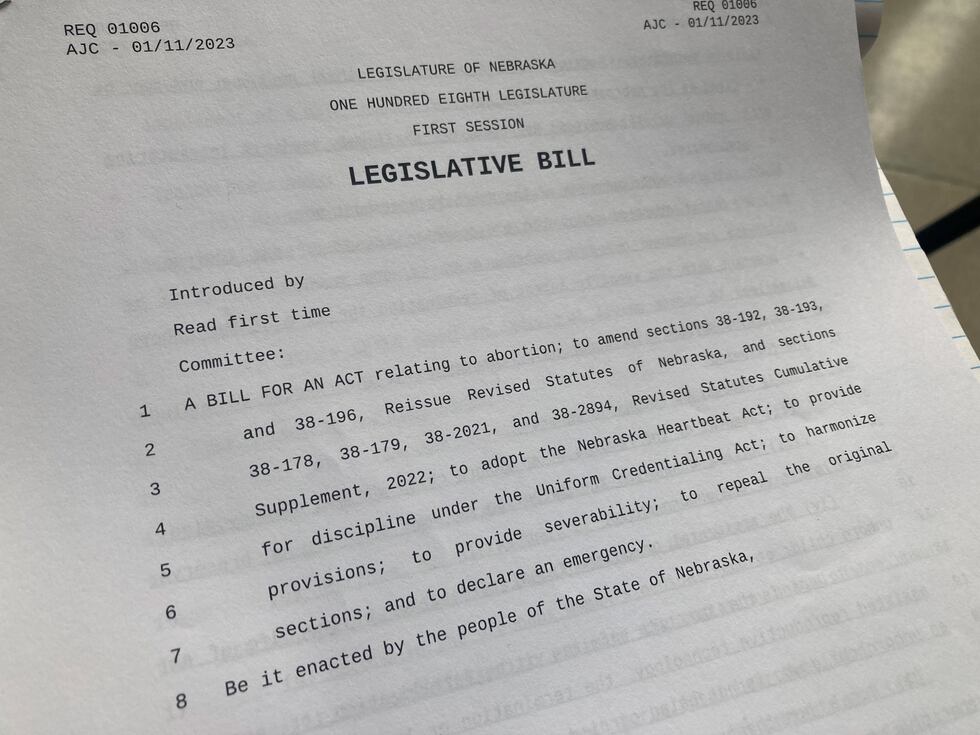 But abortion rights supporters say women need safe, legal, and available services — and that this bill does the opposite of that.
"People know pregnancy is complicated. There is no one size fits all solution," Hunt said. "That's why we can't allow lawmakers to pass this one-size-fits-all abortion ban."
Albrecht's bill also includes the Nebraska Pregnancy Help Act, establishing an annual $10 million tax credit for donations to pregnancy help organizations — those that provide free services that "help women carry their pregnancy to term, encourage and enable parenting or adoption, and promote healthy childbirth," according to the NFA release.
Albrecht also released a statewide poll conducted by the Nebraska Family Alliance that shows a majority of Nebraskans support such a bill. But the polling utilizes "heartbeat bill" phrasing, which abortion advocates like Planned Parenthood have called misleading.
A similar bill in Iowa was blocked by the state courts about a month ago after lawyers for Planned Parenthood argued that allowing the bill to proceed would circumvent the legislative process, despite the U.S. Supreme Court reversal of Roe v. Wade.
But Planned Parenthood Advocates of Nebraska says the majority of Nebraskans actually want abortion services to remain accessible. An ACLU of Nebraska survey released in March supported that statement.
"This egregious bill goes against the will of Nebraskans, a majority of whom want abortion to remain safe and legal, and will have ramifications for generations to come," said Andi Curry Grubb, executive director of Planned Parenthood Advocates of Nebraska. "We cannot know a person's situation — their health, wellbeing, risks, and futures. Every Nebraskan deserves the right to control their reproductive health and their future. This bill strips them of that right. Politicians should not be making decisions for Nebraska families."
READ THE NEW BILL
Copyright 2023 WOWT. All rights reserved.