Gusty southerly winds propel temps upward to end the week
Published: Dec. 1, 2022 at 5:38 AM CST
OMAHA, Neb. (WOWT) - Temperatures have slowly risen overnight with southerly winds beginning to pick up.
We will start off in the 20s but that breeze will have wind chills near 10 degrees, so dress warm for the morning.
Temps will climb pretty quickly on the back of those increasing winds and we will end up in the upper 40s for our highs.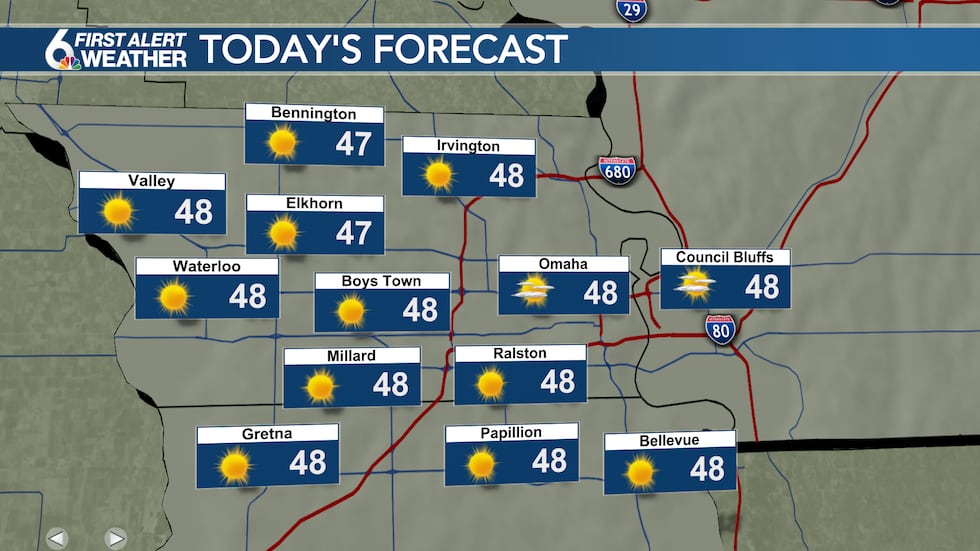 The winds will be blustery with gusts topping 40 miles per hour possible in the late morning into the afternoon hours.
A decent breeze continues into the nighttime hours, keeping us from falling off too much.
Friday starts with temps in the mid 30s and we will end up close to 60 degrees for a high.
A front moves through in the afternoon and the wind will switch to the northwest behind it.
Gusts Friday evening will be near 50 miles per hour.
This brings much colder air in for the weekend with highs only in the 30s on Saturday, though we do return to the 40s on Sunday.
Precipitation chances are pretty low through next week with a system potentially bringing a few showers in Monday into Tuesday.
Temperatures will be remaining a little below average as we head through the next ten days.
Copyright 2022 WOWT. All rights reserved.