6 FIRST ALERT WEATHER -- Storm impacting Omaha, Council Bluffs pushes east into Iowa
Tornado watch in effect until 8 p.m.
Published: Dec. 15, 2021 at 5:33 AM CST
|
Updated: Dec. 15, 2021 at 6:36 PM CST
OMAHA, Neb. (WOWT) - Today is a First Alert Day due to several different aspects in the forecast that have the potential to be dangerous. Wind gusts will be the main threat but there is a growing potential for strong to severe storms in the area is very noteworthy as well.
6:00 PM -- The powerful line of storms brought damaging wind gusts to nearly the entire area throughout the late afternoon and early evening. Winds hit 93mph in Lincoln causing numerous reports of damage across the city. Just east of Lincoln, Bennet reported winds of 92mph. In the same area, Eagle also reported a wind gust of around 90mph. in the metro area, wind gusts topped out at 81mph at Offutt Air Force Base in Bellevue, and 83mph in Missouri Valley. Omaha officially reported a gust of 74mph, with wind damage reported all across the metro. Storm spotters or emergency management reported tornado touchdowns in or near Columbus, Humphry, and Beemer in Nebraska, as well as near Atlantic and Brayton in Iowa.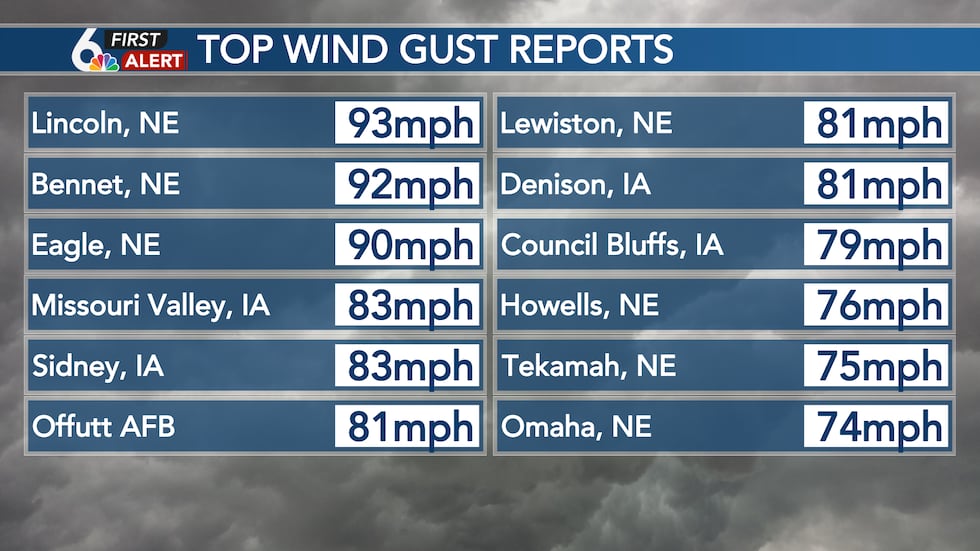 Among everything else going on, Omaha set a brand new record high for the entire month of December. The previous record for the month was 72 degrees, set back on December 6th, 1939. Today we hit 74 degrees before the storms roared in, breaking the monthly record by 2 degrees. We also smashed today's daily record by 13 degrees! The previous record was 61 degrees, set in 2002.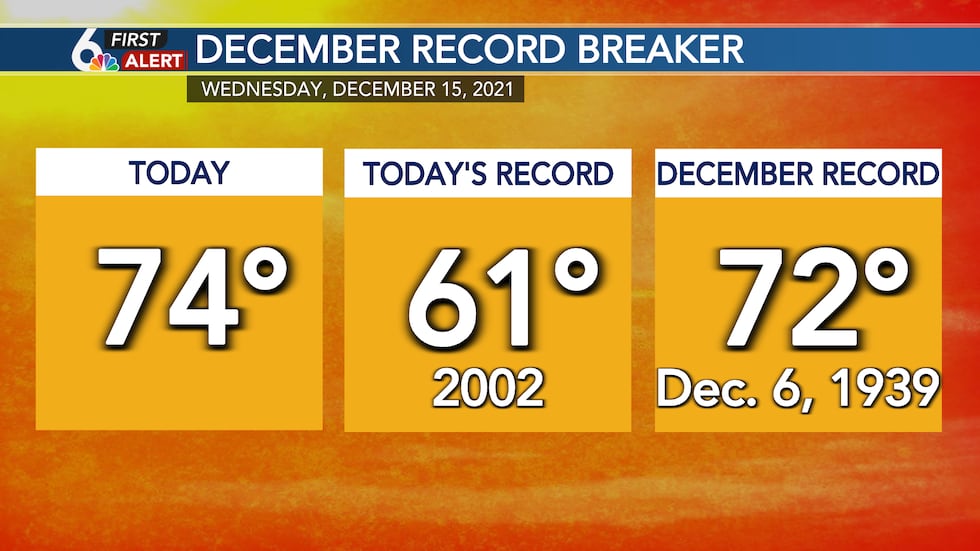 5:20 PM -- The Tornado Watch has been canceled for the entire area. Storms have pushed east into central Iowa, and will continue to move away from the metro.
4:46 PM -- A Tornado Warning has been issued for Iowa areas near Avoca, Walnut, and Elk Horn. The warning expires at 5:30 p.m.
4:22 PM -- A Tornado Warning has been issued for Council Bluffs, Underwood, and Neola. The warning is set to expire at 5 p.m.
4:16 PM -- A Tornado Warning has been issued for Blair and Fort Calhoun areas as well as the area near Mondamin, Iowa. The warning expires at 4:45 p.m. The National Weather Service reported a funnel on the ground on Highway 66 near Plattsmouth.
4:12 PM -- Tornado Warnings have been issued for Plattsmouth and the Iowa towns of Glenwood and Malvern as well as Pawnee City, Humbold, and Stella. The warnings expire at 4:45 p.m.
4:02 PM -- A Tornado Warning has been issued for Nebraska City as well as the Iowa towns of Glenwood and Malvern. The warning expires at 4:15 p.m.
3:54 PM -- A Tornado Warning has been issued for Blair, Bennington, and Arlington. The warning expires at 4:45 p.m.
3:45 PM -- CONFIRMED TORNADO MOVING TOWARD MEAD AND YUTAN. A Tornado Warning has been issued for Valley, Yutan, and Waterloo. Winds surpassing 90 mph were recorded near Lincoln.
3:28 PM -- The National Weather Service in Omaha issued a Tornado Warning for east central Madison County and southwestern Wayne County in northeastern Nebraska after radar indicated rotation. The biggest threat was expected to be near Hoskins.
1:25 PM -- A Tornado Watch has been issued for the entire WOWT viewing area until 8 PM Wednesday. Our greatest threat will exit to the east by 6 PM. Make sure you have multiple ways to receive alerts this afternoon! Storms will be racing through the area quickly and packing a punch as they do so.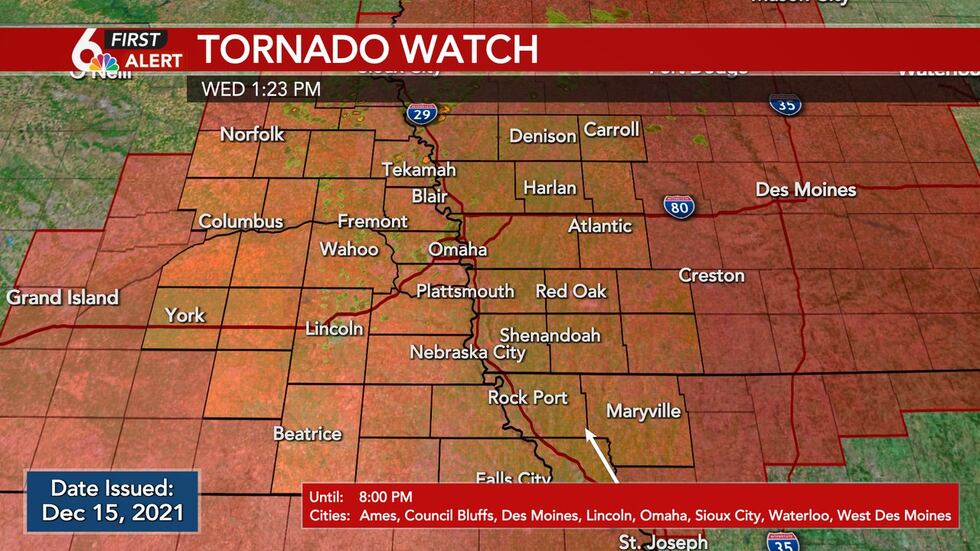 PREVIOUS FORECAST: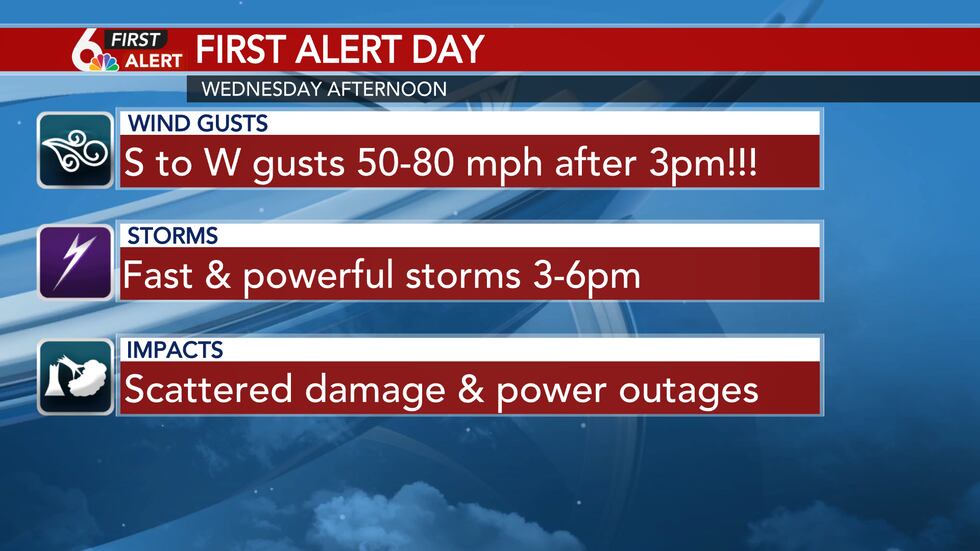 Wind gusts will gradually increase as the morning goes along into the afternoon with the strongest likely after 3pm through about 9pm tonight. That is when there will be the potential for non-thunderstorm wind gusts of 50 to 80 mph. That will easily lead to wind damage and power outages in the area.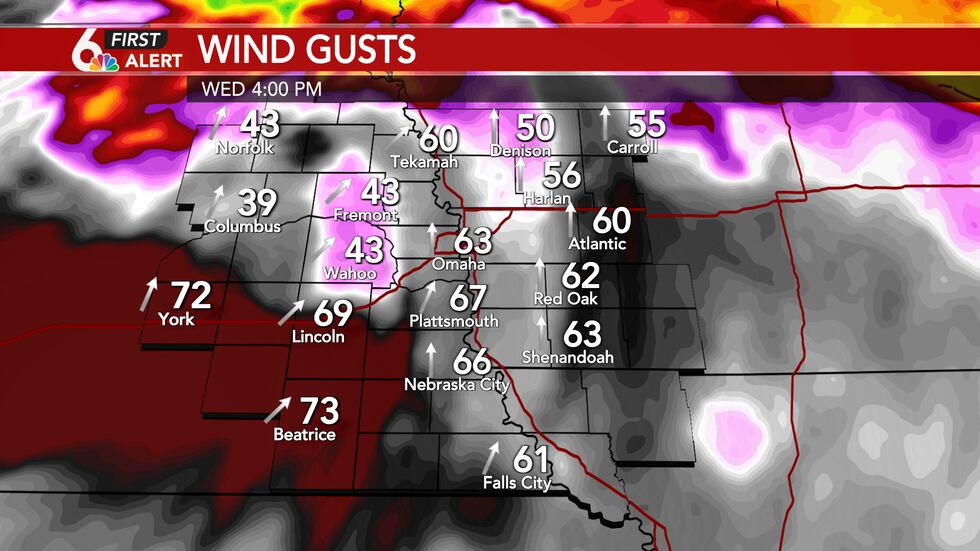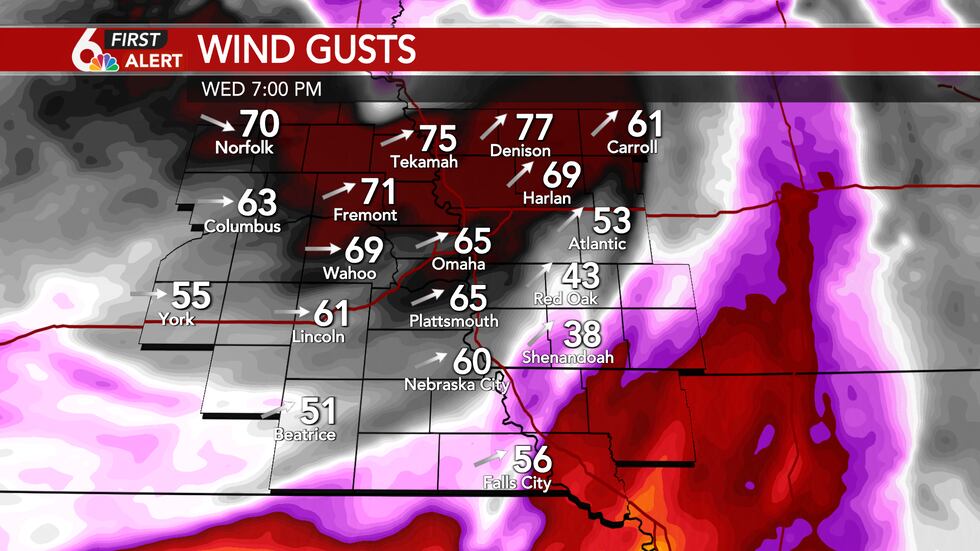 On top of these wind gusts, there is the potential for a line of strong to severe storms to VERY quickly move through our area from west to east and bring yet another potential for very strong wind gusts. 3-6pm is the window for those storms in our area before they race northeast very quickly.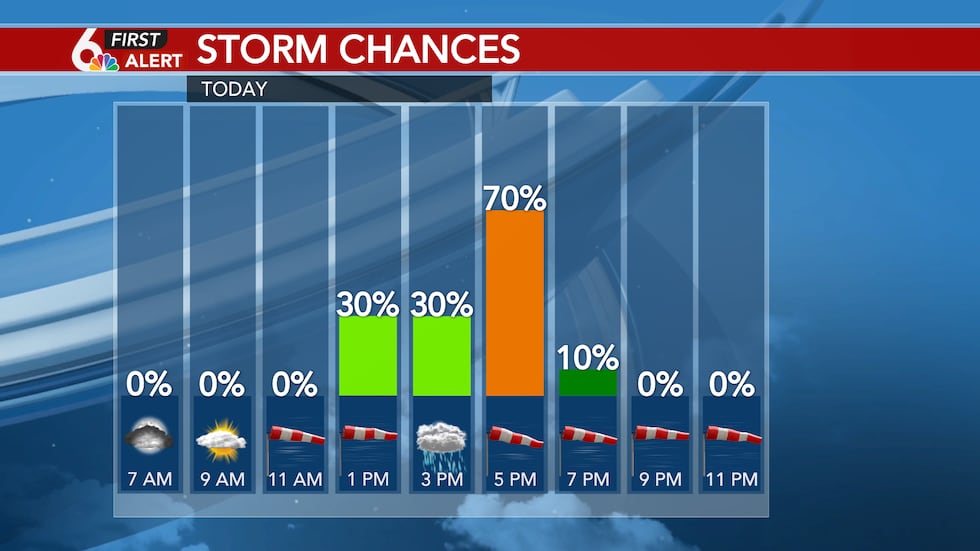 While dangerous wind gusts will be the main threat from those, there is a tornado threat that will grow from the storms as the move northeast through West Central Iowa. All of these storms could be moving 60-80 mph through the area as well.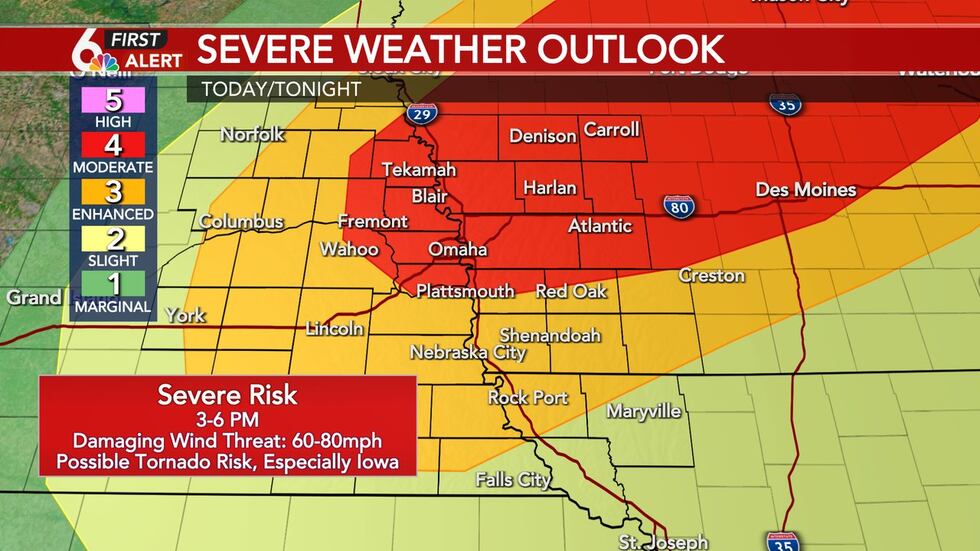 Fire danger is very high as well today due to the high wind gusts and low relative humidity. Any fire that sparks will spread rapidly.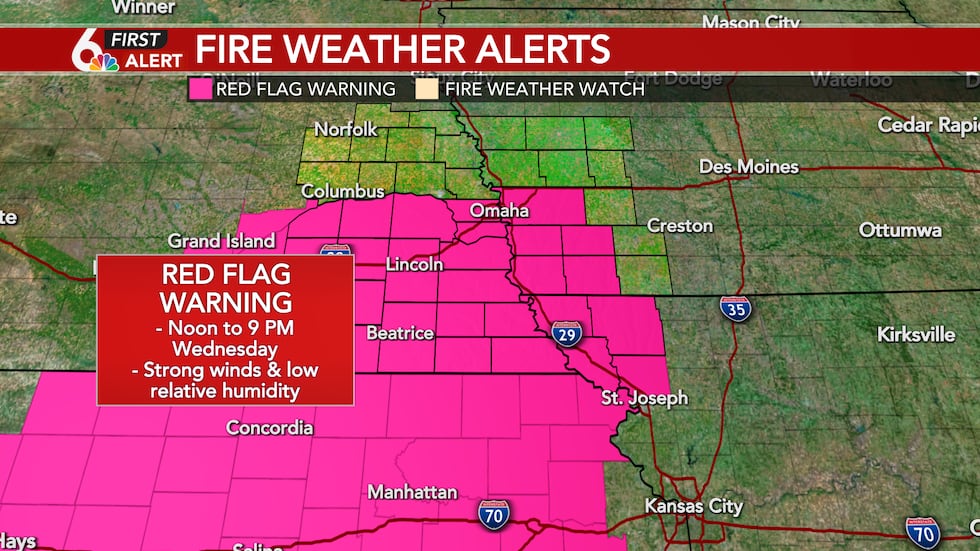 On top of all of this, a record high in the lower 70s is likely this afternoon before any storms arrive.
Copyright 2021 WOWT. All rights reserved.