First Alert Day Friday: A line of storms potentially impacts the morning drive.
Published: Jun. 9, 2021 at 8:58 AM CDT
|
Updated: Jun. 10, 2021 at 4:49 AM CDT
OMAHA, Neb. (WOWT) - Friday morning is a First Alert Day due to the threat of a line of storms that could impact the morning drive as early as 7am. There is also a low risk of severe weather with this line.
There is also the threat for a little severe weather on the leading edge of this line. A strong to severe wind gust up near 60 mph would be the biggest concern with any of these storms Friday morning. Again the early potential for that is likely 7am. Then rain and some storms are likely to continue for a while behind the line too with impacts to the morning commute.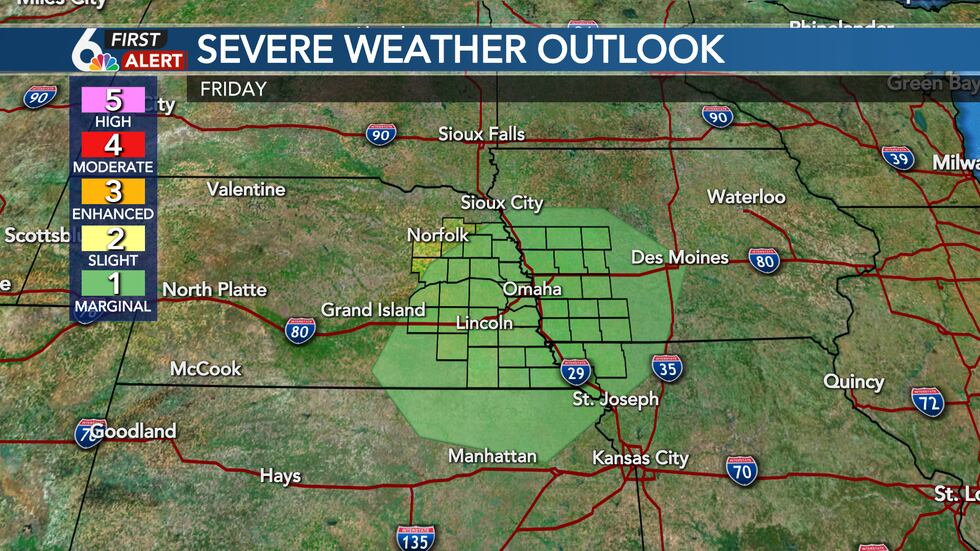 This rain should be mostly out of the area by noon leaving us with a warm and somewhat muggy afternoon. Rain totals from this will likely be near 1″-2″ at the highest to the fast moving nature of the line of storms too. It will also be fading some on approach. That won't be enough to erase that 1.5″ rainfall deficit that most of us will have by then unfortunately as those 1-2″ rainfall amounts won't be widespread.
Copyright 2021 WOWT. All rights reserved.